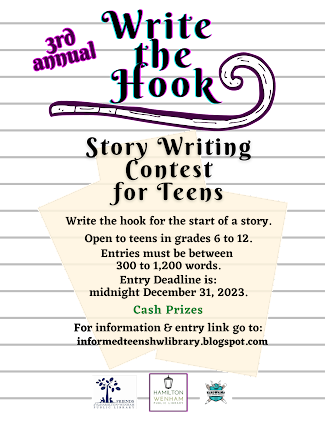 The Library's 3rd annual Write the Hook contest is open! Write your hook for a story. What's a hook? A hook is the beginning lines or pages of a story written to hook the reader's attention. A hook impels the reader to want to continue reading to find out what happens next. Entry deadline is midnight, Sunday, December 31, 2023. Minimum word length is 300 words, maximum word length that may be entered is 1200 words. Cash prizes awarded to first and second place winners in grades 6-8 and in grades 9-12.
Contest Rules
Write the hook for the beginning of something longer; for the start of a story.
Open to teens in grades 6 to 12, who are residents of Essex County in Massachusetts.
Entry must be your original work and have a word count between 300(minimum) and 1,200(maximum)words.
Maximum of 1 entry per author.
Give your story hook a title.
Entries due by midnight, Sunday, December 31, 2023.
Submissions
The preferred method for story submission is via the online contest entry form.
Entries will also be accepted in paper form, but it must be typed in 12 point Times New Roman font on 8.5″x 11″ paper. If you submit your entry on paper you must include on the back of the last page: your first and last name, grade level, phone number, email, and word count. Paper entries that do not follow the above guidelines will be disqualified.
Judging
Our contest judges will use a rubric that scores points based on:
Length: Is the entry between the minimum and maximum word count?
Story Hook: Does the writing hook you? Do you want to find out what happens next?
Character(s): Is/are the character(s) clearly described?
Writing: Does the word choice convey a clear picture?
Grammar: How is the spelling, grammar, punctuation, etc.?
Creativity: Original ideas? Surprising? Imaginative?
Prizes
Prizes are funded by the Friends of the Hamilton Wenham Library. Cash prizes are awarded by division (Grades 6-8 and Grades 9-12).
First Place: $60
Second Place: $40
Results
Contest winners and any honorable mentions will be announced in January 2024, both on the Library's Informed Teens blog and individually to the winners. Winning stories, along with author's name and grade level, will be published on the Library's Informed Teens blog.
Helpful Links
Submit your story here:
Read the winning entries from 2022 here:
And meet last year's winners:
All contest rules and the online entry form are found here:
Write the Hook Contest Information