Halloween in Hamilton-Wenham
November 16, 2018
What is your favorite part of Halloween each year?
The Parties (46%, 11 Votes)
The Candy (29%, 7 Votes)
Dressing up (25%, 6 Votes)
Total Voters: 24

Loading ...
It's that time of year again. The leaves are changing color, the decorations are out, and the pumpkins are being carved. That's right; it's Halloween. And although other holidays like Christmas may get more attention, trick-or-treating is still an exciting part of many teachers' and students' present and past.
Every year, kids dress up and go trick or treating with friends and family. We all remember going into the neighborhood with the most candy, knocking on people's doors, and yell "trick or treat!" and get their candy. Often the adults at the door would try to guess what costumes we were wearing, but they often got it wrong, but it was okay because they gave us candy and that's all that mattered.
But where did this tradition begin? There are many ideas about where trick-or-treating started, dating way back to classical antiquity, but the tradition of going door-to-door in costume on a holiday has existed since the Middle Ages. In parts of Britain and Ireland, mumming was common. This involved going door-to-door in a costume and performing short scenes of plays in exchange for food or drinks. This custom may have evolved into the belief that there were supernatural beings or dead souls who roamed the earth at the holiday that needed to be appeased.
However, trick-or-treating as we know it was not a popular practice until the 1940s and 1950s, when it started to be recognized as a part of popular culture in the United States and Canada. Trick-or-treating was shown in the comic-strip "Peanuts" in 1951, and in 1952, Walt Disney portrayed the tradition in the cartoon "Trick or Treat". Since then the tradition has become a part of everyone's October, and it is important to students and staff.
The Halloween experience that we all love is taken for granted sometimes, but if you look back on all the time and effort it takes for a spooky Halloween to be orchestrated by everyone in a community, it really is fascinating how much commitment is required for Halloween to happen.
It takes the preparations of parents and adults who set up the decorations, buy the candy, often make the costumes and then letting kids in costumes knock on their doors. It really takes a strong effort from the entire community in order to pull off Halloween, but Hamilton-Wenham does it.
So I sat down with Ms. Clapp, who dresses up every year for school to hear her favorite memories and experiences from October 31st.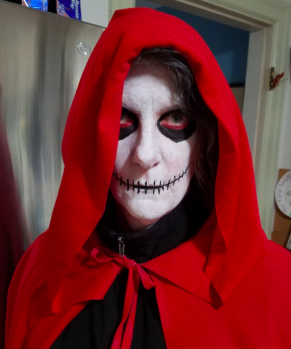 "I remember being really young, probably eight or nine, maybe a little older, maybe ten." Ms. Clapp said. "It was one of the first times that I went trick-or-treating with my friends, where my parents weren't right with us…And we heard rumors that instead of a shaving cream, people were gonna be using Nair, which is a hair remover."
"And so we were terrified. Anytime we saw older trick-or treaters, we would literally run and hide in the bushes," she said. "It was a terrible trick-or-treating experience because we were terrified the entire night." Although she had this scary experience as a child, Ms. Clapp still enjoys dressing up as "Little Dead Riding Hood" every year for the past eight years. "I enjoy the spooky factor. I'll walk around the hallways during a prep period or during Power Block, trying to freak kids out a bit." "A little fear is good for you," she said.
Ms. Clapp also talked about trick-or-treating as an adult with her own kids. "In our little neighborhood there are about 20 kids so we hit our road, and for a long time our neighbor had a little tractor so he would pull our kids in a wagon, which was a lot of fun. "They loved that," she said.
When I was younger and went on great trick-or-treating escapades, the most exciting part for me (other than the candy) was the atmosphere of the neighborhood in which I trick or treated: The eerie decorations that were on all the houses, that lit up the night in wonderful colors. The sense of community was important to me, too. I could walk around the streets and suddenly I see Darth Vader and Captain America saying "thank you" after getting candy from the Joker. It was magical and surreal to walk up to a house at night, surrounded by others in costumes.
So as the holiday season approaches, the stores begin to set up the holiday decorations already, and the trick-or-treating candy begins to disappear, lets not forget that time of year for all the joy and fear it can bring to us all.
Sources:
"Halloween." Wikipedia, Wikimedia Foundation, 12 Nov. 2018, en.m.wikipedia.org/wiki/Halloween.
"Trick-or-Treating." Wikipedia, Wikimedia Foundation, 13 Nov. 2018, en.m.wikipedia.org/wiki/Trick-or-treating.