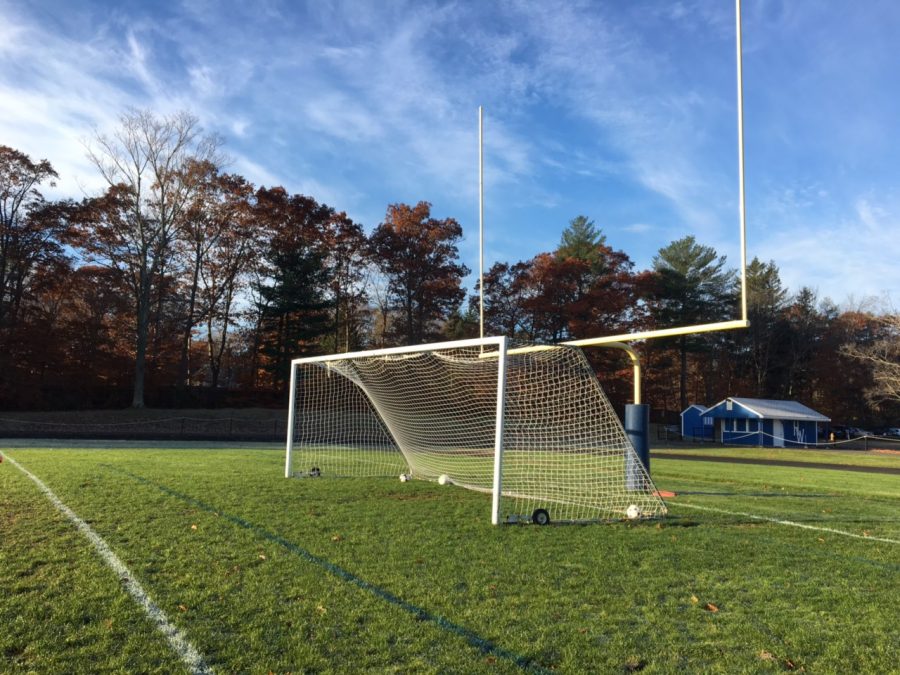 Students, Sports, & Stress
Coaches, teammates, and even athletic directors want their players to be physically healthy and ready to play, but the mental health of players can often be overlooked. Student-athletes have the constant challenge of balancing grueling schoolwork, exhausting sports games and practices, and a healthy and appropriate social life. Juggling these three different activities is a crucial part of being a successful student-athlete.
We all know the balance of a three ring circus is very delicate. Each moving part must perfectly work with the other moving parts. As you may imagine, being a student-athlete comes with similar challenges, as many students understand the pressure of balancing sports and school. The original three part balance can become crippled and destroyed by stress. So how does a high schooler deal with this relentless pressure?
To answer this question I talked to multiple resources: Mr. Genualdo, Athletic Director at HWRHS; Mr. Ristaino, Boys Junior-Varsity lacrosse coach and teacher; and Mr. Tracy, Principal of HWRHS. All their answers were very consistent: they said that healthy relationships and communication are the keys to relieving stress. These important figures believe that it is, in fact, partly the adults' responsibility to identify a stressed out student-athlete and build a relationship in which they are able to help that student.
I sought out Mr. Ristaino during powerblock, which was full of freshmen and remained dead silent. He sat with good posture and exuded confidence as he answered my questions. He is in the interesting position of being both a teacher and a coach. According to Mr.Ristaino, "…that's part of coaching and teaching; to build a relationship with kids…"
When I approached Mr. Genualdo, I made sure to ask him if he had a minute. His response and demeanor made it clear that he always has time for his student-athletes and he is always willing to talk. Mr. Genualdo agreed with his coach, Ristaino, by saying, "The best coaching tool from the dawn of time, and it will be this way forever, is to have a trusted coach."
Principal Tracy takes this coach-player relationship one step further by observing students and their behavior almost constantly. You can often find him floating quietly through hallways and classrooms. He often greets students by name, giving a personal touch to each student in school. His unique role allows him to see student-athletes in need of support. Mr.Tracy reflects, "[As principal] you get to know people pretty closely, and can see changes, allowing you to identify a student under a great amount of stress."
Now, if adults in our school know the answer to helping students under large amounts of stress, why do student-athletes still feel so stressed? The unfortunate answer is because building an adult-student relationship can be extremely hard. Students oftentimes do not feel others understand what they are going through or dealing with, especially adults.
I found senior student-athlete Megan Peterson during powerblock. She was dressed in her soccer uniform in the spirit of game day, but she was focused on her forensics homework. When I asked her for the interview, she was not ecstatic but willing. Megan said, "I'm not going to communicate my stress with other people. I rather keep it to myself and try deal with it myself."
Another large factor that people often forget is the Massachusetts Interscholastic Athletic Association. The MIAA is involved in every student-athlete's life, whether he/she is aware of this or not. The MIAA creates rules and regulations that are standard for all student-athletes in the state. Examples include bullying and hazing consequences or recovering from concussion requirements. However, what is missing from this very strictly enforced, statewide, guide is the help for student-athletes who are stressed to a point of excessiveness. This awareness must rise and, as a community, we can help change this.  
From what I learned from personal experience and extensive investigating, in order to help conquer stress all student-athletes must take a step back, identify the stressor, and organize thoughts and time by prioritizing. Of course, this is always easier said than done, but with anything you want to be successful with, you must practice.
The answer to a stress-free life, especially among student-athletes, may never be known. But the awareness of this issue can always improve with peers, teachers, parents, and coaches. In order to help de-stress, student-athletes need to broaden their mind and realize they do not have to figure this out alone. As adults continue to observe for signs of student stress and mood changes, students should also use these opportunities to help themselves. Together, the three ring circus that is a student-athlete's life may be manageable after all.