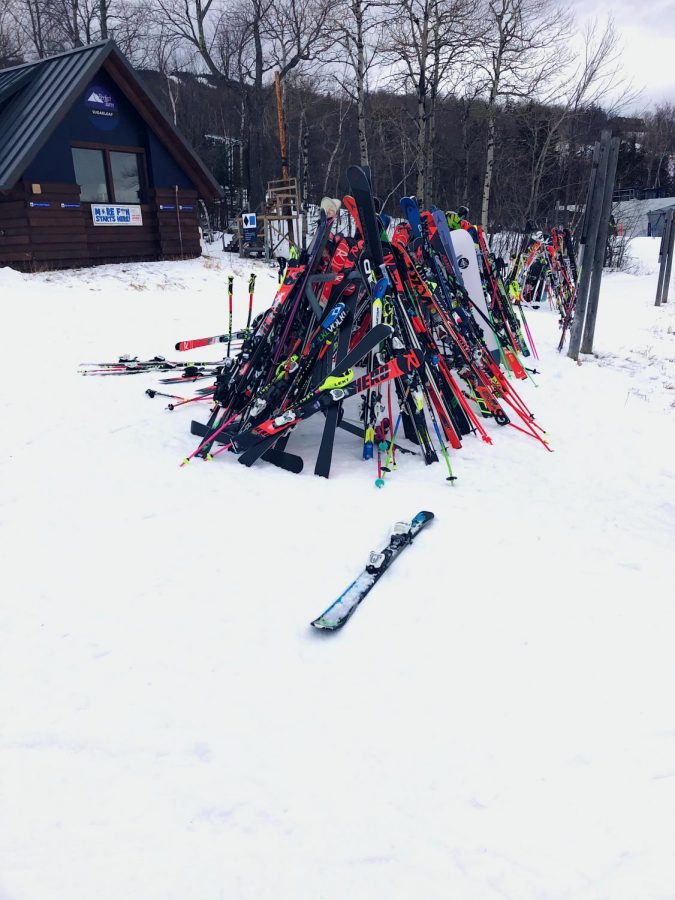 Hitting the Slopes
Hamilton-Wenham alpine racing ski team
Hamilton Wenham Regional High School offers a wide variety of athletics for the students and the activities it does not offer, often are supported through co-ops with other Schools. For example, programs such as cheer and gymnastics, which has fewer participants, combined with the program with another school. Our school has recently started a ski combined team with Manchester-Essex, allowing students to ski competitively with the school.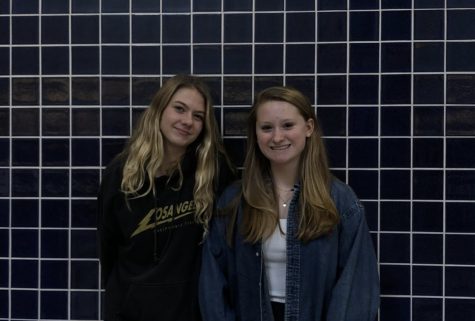 This all started because a Hamilton- Wenham student became interested in racing with the school. One of the main advocators for a ski team was Caroline Doane, a junior, who has been in and out of the athletic director's office consistently since the beginning of her sophomore year. Throughout her sophomore year, Caroline Doane, met with Mr. Genualdo, the Athletic Director at Hamilton- Wenham Regional High School. The process of finding a school to Co-op with was long and hard. Caroline first emailed Genualdo and the schools around us that had the alpine ski team. Manchester Essex was the only school that was interested in hosting Hamilton- Wenham. Caroline found another high school student interested in this team Rosie Safford. Together this year they have been consistently meeting with Mr. Genualdo in order to stay updated on how far along in the process they were.
In early November, the team was approved and an informational meeting was held on the 6th of November at Hamilton Wenham Regional High School in room 404. This meeting revealed important information about the specific details about the ski team, like the cost of the team, $460 for registration and an additional for the mountain ticket. Next year, the Athletic Director and students are hoping that the School Board will help cover 60% of the registration fee. Then the first all team meeting occurred on December 2nd at Manchester-Essex high school. The reason this  meeting was held to meet the team and learn about the skiers experience racing or their skill level and to provide a list of equipment needed.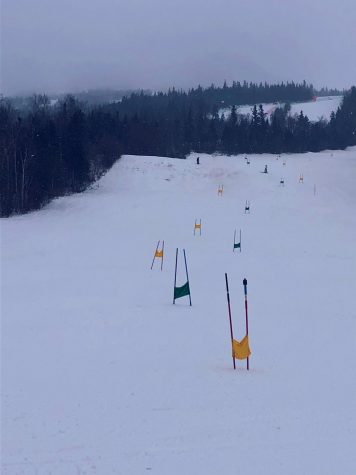 High school alpine race teams offers both Slalom and Giant Slalom and therefore 2 different pairs of skis are needed. Members are also required to have a crash helmet with a chin strap, goggles, poles with the pole guard.
2020 girls alpine skiing schedule at Manchester Essex High SchoolSimilar to most high school ski teams, no practices or races are held on Fridays because many skiers go up north the ski every weekend. This year the schedule has dryland training mainly Monday, Tuesday and Thursday throughout the month of December. Dryland training strengthens and prepares racers for skiing. There are two on mountain practices in the beginning of January and the rest being races starting at 3:30 and practices after races at 5 usually until 7 on Monday and Wednesday for girls alpine skiing and Tuesday and Thursday throughout January February  and the ski tournament in March. The mountain this team uses is Bradford, it is used by many High schools including Masconomet High School and Pingree.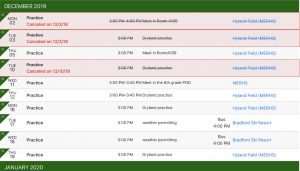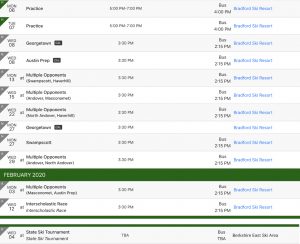 This year, there are 4 students from Hamilton Wenham on the team, 3 junior girls and 1 freshman boy. However, in the next few years we are hoping to make it more affordable and known so that more members will join, allowing the team to continue in the future. One of the main obstacles with the number of students interested in joining is that many students participate in other sports during the winter and are not willing to quit that sport to try a new sport. Additonally, this year, families had to cover the full cost of the sport and provide their children participating in ski racing with equipment, raising the cost even more.
Another difficulty about having this co-op with Manchester Essex is figuring out how to get from one school to another school or to the mountain after school. There is no bus available to bring students from Hamilton Wenham However there is a bus at Manchester taking the students to Bradford. Students from Hamilton Wenham are not required to take the buses from Manchester to or from the mountain, but it is available for them.
This team is a great way to learn or improve a skill you will be able to use for the rest of your life.
This team is not for people hoping to learn to ski or beginners. If you are interested in competitive skiing and learning how to race then you can learn more about the team by contacting Mr. Genualdo at [email protected], or talk to Caroline Doane and Rosie Safford.