On The State Level: How effective is social distancing really?
April 10, 2020
All of us, no matter where we come from, who we are, or what we have, social distancing is now the only thing that we are told to pay attention to. As these harsh times continue to take precedence over our lives: it only leaves us with several questions, when can we see our friends, families, partners, co-workers, neighbors, and even the strangers that become regulars at your local coffee shop? Is social distancing really the way to win the battle over the virus that destroys lives, hopes, and the days we were not supposed to spend at home? Just how effective is this method in beating the virus that seems invincible and are all the states in the U.S on the same page?
Each state took social distancing measures differently causing peaks to be formed at different times. 
 Professor Ali Mokdad of Health metric sciences at IHME says, helped create the models that represent when each peak and ending period is of every state."If you change the deck of cards, it's going to be totally different. If people do a better job, it's going to go down. If they don't — if they ignore recommendations and start partying and going out — then they will have more mortality."   

Mokdad mentioned Since California started social distancing before New York, about one week prior to taking the precautions needed, it helped slow the spread among the West Coast when looking at its peak period. Comparing other states, residents of the District of Columbia, Nevada, and New Jersey show signs of improvement from social distancing efforts. According to the human mobility data company, Unacast, Lower travel among citizens has been shown in states such as Vermont and Massachusetts. Cutting down travel has also had a significant relation slowing the spread of the virus. 
Additionally, the Center of American Progress declared, "there are early signs that the virus is potentially flattening or spreading more slowly in Kentucky, the San Francisco Bay Area, and in Washington state." 
 Even though Massachusetts Governor, Charlie Baker said, "I do not believe I can or should order U.S. citizens to keep confined to their homes for days on end." following the social distancing measures was on his priority list. However, it has been proved by numerous models, that whatever the state governor decides to do regarding social distancing measures, will reflect upon how long the virus will stay for. 
Every state right now, has social distancing guidelines through the end of May which includes, closing schools, nonessential businesses, and issuing stay at home orders.
Overall, the states that closed public areas and took safety precautions even before the federal government issued guidelines, are in much better shape than other states.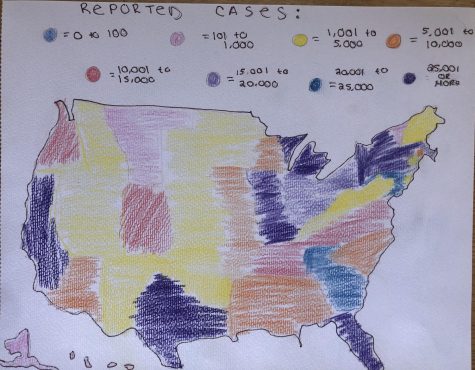 As a nation, helping to flatten the curve together, little by little through the efforts and recommendations made by the local state government and sticking to it is the key. There are still hardships to come, and this battle against the "killing" virus is not over. 
"If you ease up prematurely the epidemic can rebound right back to the level we are at now in a matter of weeks," said Chris Murray, the state peaks models lead researcher. We cannot stop now no matter how much good news we are hearing. There is clear evidence that social distancing has a tremendous outcome, and we all need to work together in order for things to get better for all of us.