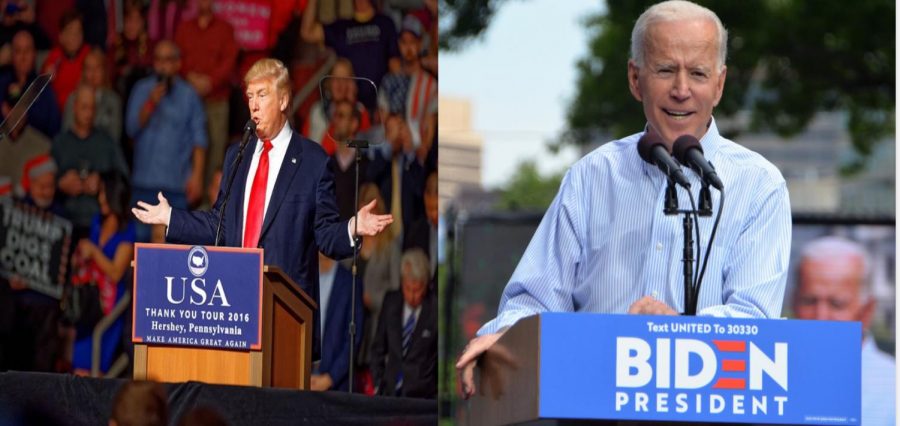 Trump-Micheal Vaden, Biden- Michael Stokes under Wiki Commons Creative License
What Are Trump and Biden Bringing to the Table?
Who will capture the majority vote?
2020 has been a turbulent year; the continual devastation of COVID-19, racial and economic turmoil, the destructive wildfires on America's West Coast, and now a Presidential Election that is already dividing America.
On November 3rd, Americans will have to decide between Incumbent President Donald Trump or Democratic challenger and Former Vice-President, Joe Biden, in the ballot box.  "This election will play a huge role in how possibly the next few decades will play out, and could potentially be the most important election of my life," said Ryan Luo, the Co-Captain of HWRHS' Political Club. 
No matter the outcome of that day, the decision made by American voters stands to change the future of America. Now, with less than 5 days until the 2020 Presidential election, it is imperative that voters familiarize themselves with both candidates' positions on important topics such as Women's rights, climate change, gun rights, and education.
 Both Candidates differ in their approach to Women's rights; President Trump is vocally Pro-life, while Joe Biden is Pro-choice. President Trump wants to make it more difficult for women to get abortions and say he would support a near-complete ban on abortion. Towards this goal, he has promised to appoint what he calls "pro-life" judges to the Supreme Court and lower courts.
This is a promise the President has stuck too in his first term; his recent appointee to the Supreme Court, Amy Coney Barret, has previously signed her name to a "right to life ad" that had the stated goal of bringing "an end to the barbaric legacy of Roe v. Wade and restore laws that protect the lives of unborn children.
In contrast, Joe Biden wants to take steps to protect women's right to choose. He has pledged to support planned parenthood, increase access to birth control, and examine the Supreme Court balance.
"I think there is absolutely no question that Joe Biden and Kamala Harris is the ticket who have the protection of healthcare access, including contraception and abortion, at heart," said Mary Jane Brown, a local Member of the League of Women Voters.
Another divisive issue this election is climate change, with the greatest difference between the two candidates being the factuality of the issue itself. Over the past four years, President Trump has repeatedly referred to climate change as a hoax; in 2016, the White House Press Secretary, Reince Priebus, stated in an interview with Fox News that the President's default position on climate change is that it is "a bunch of bunk."  President Trump has also actively limited the American response to the impending environmental disaster; he took America out of the Paris Climate Accords in 2017 and has repealed over a hundred laws that protected the environment and limited pollution.
In contrast, Joe Biden acknowledges the reality of climate change and has promised to make America run on 100% clean energy by 2035, pledging 2 trillion dollars in his budget proposal towards this goal.  
On the issue of Education, President Trump is averse to public schools and believes in the privatization of public education, while former Vice President Biden wants to use federal funding to support public schools. In the 2020 State of the Union Address, President Trump conveyed his distaste for Public schools when he stated, "For too long, countless American children have been trapped in failing government schools." The President's solution is to focus on encouraging school privatization, a stance shared by his Secretary of Education, Betsy Devos.
While Joe Biden agrees that Public schools are struggling, he believes the solution is to invest more money into the school system. According to Biden, this would allow public schools to increase teacher pay and school resources, thus improving education for everyone, especially minorities and students from low-income backgrounds. To this same end, Biden would also like to push for greater diversity among teaching staff.
Regarding gun control, President Trump is more concerned with preserving Second Amendment rights than Biden, who is instead interested in increasing gun control measures.  Joe Biden promises to work towards limiting the sale of high capacity magazines and assault weapons and reducing the stockpiling of guns and ammunition. To prevent this stockpiling, Biden would have the government buy back assault weapons and high capacity magazines from Americans. Biden also wants to take guns away from people who may be mentally challenged by requiring extensive background checks for all gun owners.
Similar to Biden, Trump has expressed interest in taking measures to prevent dangerous individuals from buying guns. However, during his last term, he has loosened gun regulations and removed the Obama era restrictions on the mentally ill's ability to own firearms. The President has also worked to fill American courts with Republican judges who would preserve the Second Amendment, which grants Americans the right to bear arms, in its entirety.
Only time will tell who the next president will be; however, either way, America's future is certainly going to change after this election.