Save emergency rooms for emergencies
Exploring whether one should got to urgent care or the emergency room
April 28, 2022
People need to go to urgent care rather than going to the emergency room for minor injuries.
People are clogging up the emergency room necessarily due to a lack of knowledge. They end up waiting longer and paying more money than they need to for minor or non-emergent injuries.  
According to CDC Fast Stats , about 130 million Americans visit the emergency room per year. The average cost of an emergency room visit in the US according to Mira is about $2,200, without insurance depending on one's condition and state. 
Americans spend a total of $299,200,000,000 on ER visits per year. Modern Healthcare reports that 30% of those visits are unnecessary and could be treated in urgent care or require no treatment at all.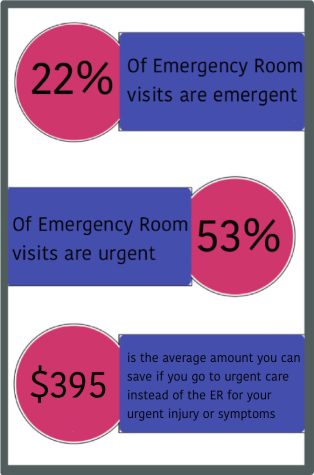 Additionally, when ERs become backed up wait times increase. The average wait for medical care can be 20-30 minutes if your condition is life-threatening. However, if your condition is not life-threatening, then be prepared to wait for hours or even days. According to Hospital Stats the current wait time before you get seen in the ER at Beverly Hospital is roughly an hour and a half.
All of this costs time and money. Imagine someone has a medical situation, for example, a sprained arm. They get driven to the ER only to wait for hours on end just to get x-rays that confirm they have a sprained arm. Then they wait even more to get treatment for the injury.
That trip to the hospital would cost $160 for the x-ray and $2,500 for treatment according to Abels & Annies PC, all without insurance. Not to mention the follow-up appointments and any medication prescribed.
Getting $2,660 out of pocket to pay for this medical care would put anybody in a tight situation. The Checkup by SingleCare says that's why about 40% of adults ages 18-64 have relied on at-home resources rather than over-the-counter drugs or going to the hospital. Some of these people have illnesses that should be treated in the ER or hospital, but some avoid it because of how much time and energy it takes to go to the ER and get treated.
If that same person had gone to urgent care for the sprained arm they would have waited at most 45 minutes and an urgent care visit costs only $100-$200. 
But keep in mind if your injury is getting worse or causing other symptoms that are taking a toll on your health, you should see a doctor. For example, if someone gets a fever and they go to urgent care and are told to just wait it out and a rash forms or other symptoms like vomiting, see a doctor.
With all of these setbacks in the system doctors and nurses are moving as fast as they can in the ER. ER nurses and doctors are already under so much pressure and stress, which is made worse by crowding in the ER. People can minimize the amount of crowding by recognizing the difference between 'emergency' and 'urgent'.
If it is an emergency for example head or eye injury, seizures, or large wounds that might need stitches, you should go to the ER. If it's urgent for example, dehydration, sore throat, sprains, and strains, you should go to urgent care. For a more detailed list of what injuries you should go to ER or urgent care, go to scripps.org.
According to the Ontario Ministry of Health doctors in the ER use "life or limb" to prioritize people in the ER, if it's life-threatening or limb-threatening they will see that person before any of their other patients in the ER. 
Knowing the difference between 'urgent' and 'emergency' can benefit you greatly. Going to the ER for something that can be treated in urgent care will cost you time and money that you can't get back. 
Even though urgent care seems more beneficial, you need to keep in mind whether your injury is a medical emergency then you should not hesitate to go to the ER because urgent care is only prepared to treat minimal/non-emergent injuries and concerning symptoms.
You can help save time, money, and resources and decrease caregiver burnout by using the ER and urgent care appropriately.