Midterm Schedule and Advice
The journalism class asked a myriad of faculty to highlight how to prepare for midterms. Below is a summary of their advice.
January 12, 2023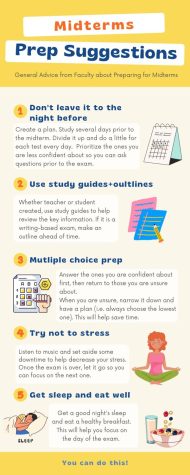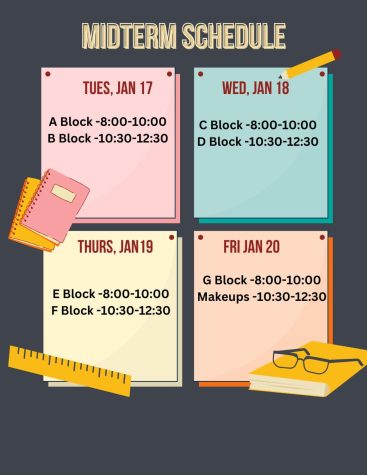 English Advice
Mrs. Burnett, an English teacher, said that in addition to various study techniques, getting a good night's rest and eating a healthy breakfast can make a huge difference. "It's hard to focus on an exam when your stomach is growling," Burnett said. "Don't stay up too late.  The material reviewed in the wee hours of the morning will likely not stay with your tired brain, so get some rest."  
Burnett went on to talk about multiple-choice questions. "Come in with a plan for what to do if you don't know the answer.  Doing 'Eeny, meeny, miny, moe' may waste precious time. Narrow down the choices as much as possible and then decide that you will always choose the one closest to the bottom or something like that. It can be a real time saver."
"My last piece of advice is about writing. When it comes to on-demand, make sure you understand the expectations. Try to do a short outline to organize your thoughts. Remember, it is often it is better to write about a few specifics than to write down every possible example and not have time to proofread your work.  Make a plan and proofread."
History Advice
Mr. Knets, a history teacher, said that preparing for the midterms really depends on the class you're in and the format of the midterms. If your midterm has many multiple-choice questions, review the material and class work to refresh your memory and get an idea of what will be on the test. 
If your midterm is a quiz with an essay, review some material and have an idea of what you will say with the essay in mind and ready for the day of the test. Some general advice he gave was to review things that you've done in class, previous notes, and primary sources. It all depends on the midterm format, so once you find that out, you can study and prepare accordingly.
AP Psychology Advice
Mrs. Maney, the psychology teacher at Hamilton Wenham, explained that preparing for the midterm will vary depending on what Psychology course the student is taking. For AP students, she recommends carefully reviewing the unit outlines they have been developing the entire first half of the year. These outlines summarize the most noteworthy topics and facts that were stated in each chapter of the textbook. They also incorporate the most crucial information students have learned in class. 
Mrs. Maney affirmed that studying unit outlines will be a much more effective study method as opposed to re-reading the textbook chapters. The midterm for AP Psychology will be in a multiple-choice format. 
Health and Wellness Advice
Mr. LaSelva, a health and wellness teacher at Hamilton Wenham, recommends that students find ways to manage the stress that works for them specifically. If you find listening to music effective for you, then do that. These coping strategies can help maintain happiness and a level of stress that isn't overwhelming. He also recommends that you use your downtime as effectively as possible to reduce the stress when exam times come. This will help ensure that you feel as prepared as possible and that you feel confident walking into midterms. It is important to keep up with your health as well. You should make sure to get good sleep, and nutrition, drink water, etc. 
Math Advice
Mr. Beckwith, a math teacher, recommended that students start preparing for the midterm early, and said that "you do not have to wait for a review packet. Go over your previous homework, tests and quizzes to see if you can reproduce the correct answers." He also outlined a strategy for how to study: 
Do not wait until the night before to prepare. Make a schedule to study, say 30 minutes a day, every day, the week leading up to the test. For example:

7 days before a test: Study all vocabulary

6 days before a test: Do practice problems, and review any answers you got wrong on homework

5 days before a test: Review the vocabulary briefly. Perform 10-15 practice problems 

And so on until the day of the test.
Mr. Beckwith stressed the importance of actively studying. He said, "you need to do more than 'look over' notes. Do practice problems, make a reference sheet, create flashcards, try Kahoot, Quizziz, Gimkit, etc. as they often have free assessments to try." He also noted that working with another student or a small group of students can help with preparation as students can ask each other questions and check their work with feedback in real-time.
"Finally, the night before the test, do not cram but do get a good night's sleep," Mr. Beckwith said.
Forensics Advice
Mrs. Clapp, the forensics teacher at Hamilton Wenham regional high school, has decided to share some helpful insight that will prepare the Generals as they begin gearing up to take on the midterms.
She said, "the best advice is don't wait!" Students shouldn't try to cram all their studying in the night before the test, but instead, dedicate a bit of time each night in the weeks prior to the test date. This includes reviewing old materials as well as the study guides that so many teachers have created in preparation for the midterms.
Additionally, she urges students who have questions about the material or the test itself to reach out and contact their teachers, who are more than willing to help.
As for the midterms themselves, Mrs. Clapp recalls, "the other big piece of advice during the midterm is do not panic."
Research shows that if you study in the room where you are going to be taking the exam, you can prepare yourself by mentally storing different facts that will be used on the test around the room. For example, you can tell yourself that you will put all the facts related to "x" in the back cabinet in the classroom.

Don't rush! Even though it may seem in your best interest to get the midterms done quickly, it's really not. Take your time during the midterms; if you have an objective test with multiple choice, read the question to yourself without looking at the answers, then ask yourself the important question, what is my teacher asking me? Once you have formulated an answer, look for the correct choice on the test.
For forensics-specific advice, Mrs. Clapp tells her students that forensics midterms are not like typical midterms; students will be rotating through different stations where students are directed to perform physical on-demand tasks. "You will be applying what you've learned in a do-situation." She encourages students to think about the big topics covered throughout the school year thus far. Finally, she wishes to assure her forensic students that they will actually really enjoy this midterm.
Art Advice
Ms. Cooney, an art teacher at Hamilton Wenham, says that she will have her students finish their monochromatic grid portrait for part of their grade. She says this will be graded twice, once in the mid-term and the other for their regular grade for the project. The other half of the exam will be a separate art project they will have to finish in the time allotted.
Counseling Advice
Mrs. Howland, a counselor at Hamilton Wenham, focused on the idea of not stressing out. She said that the midterm is only 10% of your grade, so it is something that you want to do well on but not stress too much about. 
Use the study guides that your teacher gives you to your advantage. She recommended completing the study guide twice, once at the beginning of your study, and once at the end, to ensure your knowledge of that subject.
 When you receive your test, you should start by answering everything you know at first glance and then go back to the ones you might have struggled with. Finally, you should get a good night's sleep the night before each test and eat a good breakfast.