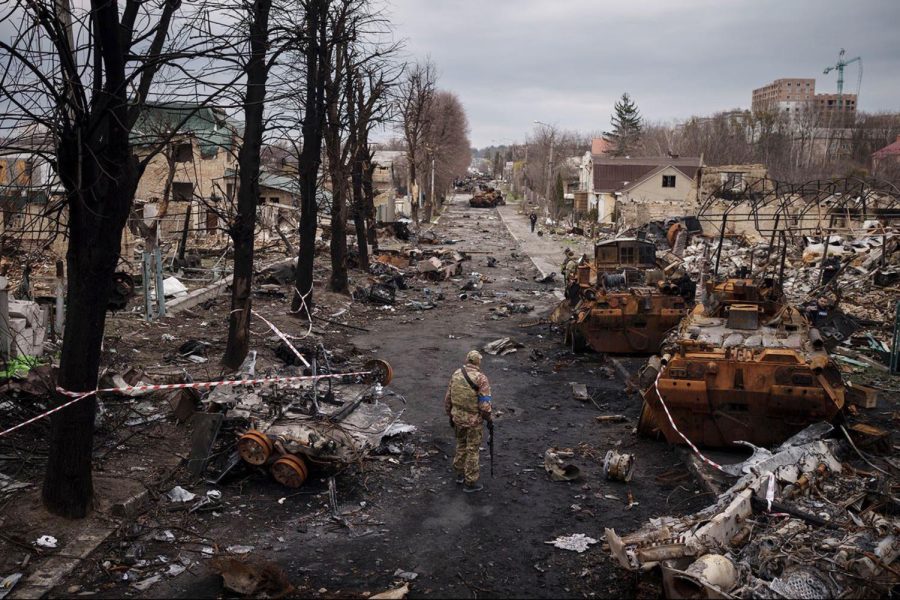 War In Ukraine: Overview of each month in 2022
As the war in Ukraine drags on to another year, below is a summary of some key events from 2022.
– February – 
In a televised speech, Putin announced a "military operation" to be conducted in Ukraine's eastern Donbas region. Putin stated that Russia was intervening in an act of self-defense, due to Ukraine's increasing interest in joining NATO. He continued saying he did not want to occupy Ukraine but rather demilitarize and "de-Nazify" the country. Many Ukrainians fled to avoid the coming attacks, and bordering nations opened their borders to any fleeing Ukrainians. Russia made attacks on Ukraine cities close to its border, notably laying an offense on Kyiv, Ukraine's capital. Countries in Europe and America were warned not to get involved, so instead sanctioned Russian elites and financial institutions. Many also sent military aid to Ukraine, rather than directly intervening.
– March –
Russia continued to make advances along the Ukraine border, but progress became slower than Russia expected. Kyiv continued to lay under attack by Russia as they dropped bombs on the city's infrastructure. Russia was also accused of committing war crimes as a result of several attacks on apartment buildings, a theater used as a refuge for children, a hospital, and the use of cluster bombs; Moscow denied such claims.
– April – 
Russia continued to make advances into Ukraine, but progress was still slower and less effective as more countries sent their military aid, including the United States. Kherson and Kyiv saw Russia withdrawing from both of the cities, the battle for Kyiv lasting 3 months. Ukraine also saw the Russian warship Moskva, sinking in a guided missile attack, denting Moscow's aura of naval power.
– May –
Russia's advances continued to stagnate as Ukraine's forces quell their attacks and even recapture lost territory. Though towards the end of the month, Russia began to re-up its offense in the Donbas. 
– June –
June saw a larger impact on other countries, including the US, when gas prices rose to record numbers as countries banned Russian gas and oil exports. Notably, Ukraine recaptured Snake island, a small piece of land in the Black Sea off the coast of the Ukraine city of Odesa.
– July –
Ukraine did not substantiate any significant victory during this month, though the city of Luhansk fell into Russian control after several weeks of bloody fighting. Russia continued its strikes on the city of Kharkiv, and even more, military supplies were sent to aid Ukraine. 
– August –
August saw Ukraine launching an offensive in the Kherson region, angering Russia to place more strikes on civilian infrastructure. It was also reported that an estimated 113.5 billion dollars in damages had been dealt so far during the war.
– September –
Following Ukraine's launch of its offensive in August, Ukraine in a rapid series of events, took much of the northeastern Kharkiv region. Putin then issued a draft to bolster his struggling military, which caused protests and caused many to flee the country to avoid service.
– October –
During October, an explosion damaged the Kerch Strait Bridge linking Crimea with Russia, a blow to Moscow's war effort. Days later, Russia attacked Ukraine's towns and cities, the start of a campaign to cripple Ukraine's energy infrastructure. Russia also announced the annexation of four Ukraine regions, Luhansk, Donetsk, Kherson, and Zaporizhzhia, despite international condemnation.
– November –
In November Russia was prioritizing more strikes on Ukraine's energy infrastructure as the winter months began, and heat is in high demand. Ukraine's military pressure made Russian forces withdraw from the city of Kherson, a significant victory for Ukraine.
– December – 
During December, Ukraine utilized drones to stage attacks on Russian targets, including military bases hundreds of miles within Russia. US gas prices finally lowered back down to pre-war levels, as well the US also plans to send an air defense system to Ukraine as Russia continues to attack and kill civilians.