Gymnasts Flip Their Way To Sectionals
USAG gymnast Simone Biles famously encouraged, "We can push ourselves further. We always have more to give." The General's gymnastics team was able to highlight this mantra throughout their season, pushing themselves to almost double their size and qualify for the sectional competition for the first time in over a decade.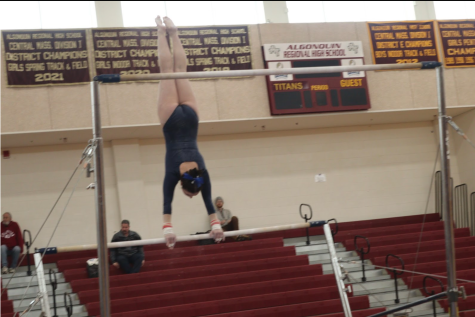 As noted in several articles published by The Salem News, active recruiting by upperclassmen and prior success led to an increase in team size. The Generals gained many new freshmen who have been competing on the club team in Wenham for many years. Iron Rail Gymnastics Academy has brought many of its gymnasts to Generals Gymnastics, pushing them to grow throughout the entire year, not only just during the high school season. These freshmen added much depth and strength to their team. 
Along with the new freshmen, the team also gained many new upperclassmen from both the co-op with the Manchester-Essex and from Hamilton-Wenham schools. Most of the new competitors have never done gymnastics before but were still able to help perform multiple roles during competition.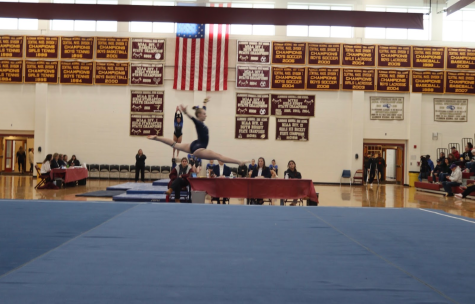 Head Coach Chris Way explains, "Having a large team provides needed depth in events and helps injured athletes [have a break from their normal competition schedule] and an opportunity for gymnasts to get rest during the season. Especially since our schedule had three meets in a week for consecutive weeks. Having a large team base also helped to enlarge our spectators for meets." 
The added ability from the freshman class and the large team led to many wins throughout the season. Generals Gymnastics had already found success when the team went undefeated in 2021, moved up a division in 2022, and then made it to the sectionals competition in 2023. Along with making it to Sections, two team members also qualified to compete in the individual state meet. The brother and sister duo, Hobey Greaves and Georgia Greaves, both made it to States. Hobey competed for vault while Georgia competed all around. In addition to making it to States, both gymnasts were able to set new vault records for the team, Hobey with a 9.75 and Georgia with a 9.35.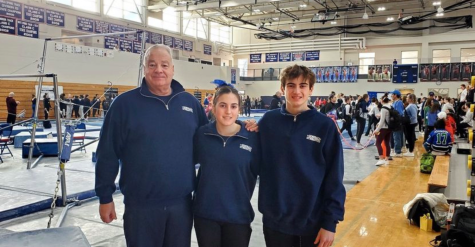 Head Coach Chris Way applauded his four captains – Norah Keys, Georgia Greaves, Olivia Novak, and Alle Benchoff – for providing vital mentoring of their new teammates and leading their team to victory. 
Assistant Coach Helen Bess shared, "The captains have helped the team in many ways, including organizing team dinners and out-of-the-gym activities, planning and implementing fundraisers, and guiding less experienced athletes during practice with skill progress, choreography, and conditioning." 
The captains played a crucial role in the success of the gymnastics team this year. It was a much different experience with a team of almost 20, whereas in previous years there were less than 10.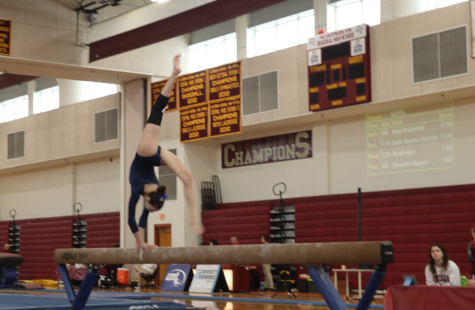 Generals Gymnastics won seven out of their nine competitions. Their highest all-around score of the season was 137.15. The Generals team is walking into Sectionals as seed 11 with an average score of 137.1775. These athletes certainly pushed themselves further and have shown that they will keep giving so much more.
View Comments(1)
About the Contributor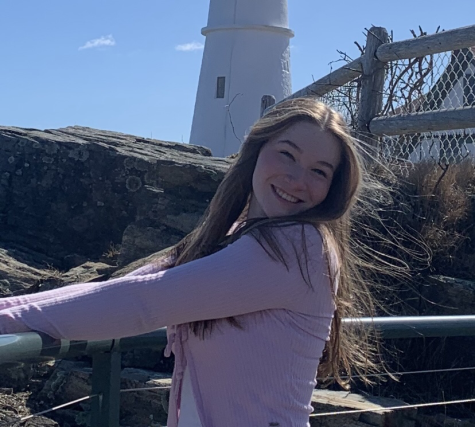 Norah Keys, Staff Writer
Norah Keys is a senior at HWRHS and a student journalist for the General Consensus. At school, Norah is the yearbook editor and a leader of the Outing...