Flying Into the Medical Profession
Twenty-eight students from Hamilton Wenham Regional High School were excited to start their exposure to the medical field and jumped at the chance to have hands-on experience in a real environment. 
The two Honors Anatomy and Physiology classes traveled to Boston MedFlight in Bedford, on March 15, 2023. Nurses from the Boston MedFlight team- Mary, Heidi and Kelly- presented to students, giving them hands-on experience as well as a tour of the base. They started out the day explaining what Boston MedFlight does for people all around Massachusetts. According to a representative at Boston MedFlight, it is "a nonprofit organization that provides transport to the sickest of the sick, regardless of the patient's ability to pay." They have been able to reach 90,000 patients since they opened in 1985.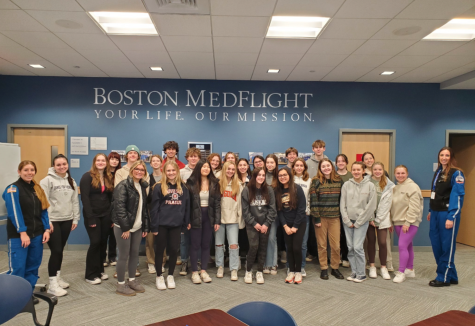 MedFlight is able to travel by helicopter, ambulance or jet and is a critical care medical transport by air and ground. When they get an emergency call they arrive on the scene of an accident or in a hospital that cannot take care of the most critically ill and injured infant, child or adult. Not only does Boston MedFlight help people who live around the area of Massachusetts, they also help anyone who lives on an island where the medical center is not as strong as the Boston hospitals. When someone is critically ill or severely injured and they live on an island, it would be very hard for them to get immediate care. Having to travel by ferry would mean losing precious time. BostonMed flight has a newly acquired jet that will help them travel even farther like the Bahamas, providing even more care to people around the US. 
The students who traveled to the base in Bedford were able to learn how to incubate, measure O2 levels and blood pressure, and  treat a patient through an IV. Along with these hands-on experiences, they were able to see the jet, helicopter and ambulance, going inside and seeing what kinds of things these medical professionals bring to on-site locations. Ms. Clapp applauded the experience and said:
"This field trip was an invaluable experience to my students. It immersed them in what emergency medicine is all about — perhaps creating potential health care workers of the future! Touring the vehicles, copter and jet and being part of the simulations, conducting some of the hands-on medicine with the mannequin, truly opened our eyes to what happens when MedFlight "gets the call."  Being able to talk with the critical care nurses, learn about their education, training, and the pros and cons of such a demanding but rewarding job was a connection that benefited students across the board."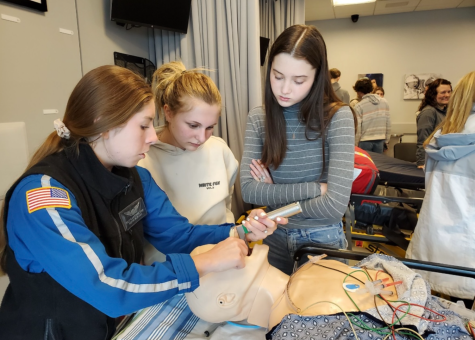 Throughout the presentation, the staff talked about their own journey to working at MedFlight. They talked about how many years it took them to get there and how much training they had to gain before acquiring a position. Both Ms. Clapp and her students say that they enjoyed this experience and believe that it helped them gain an understanding of what it would be like to work in the medical field. Junior Leah Coffey shared:
"What I liked most about the Medflight trip was being able to get an insight on what they do. I loved hearing the stories about accidents that they got calls for and hearing about what they did to save those people. Learning about the work they do and the responsibility they have, made me realize how excited I am to go into the medical field as well."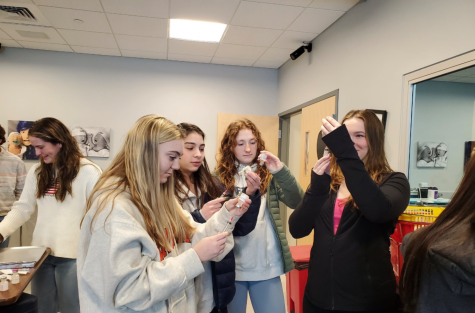 This MedFlight field trip was able to provide a lot of insight and experience to HWRHS students interested in the medical field.
Leave a Comment
About the Contributor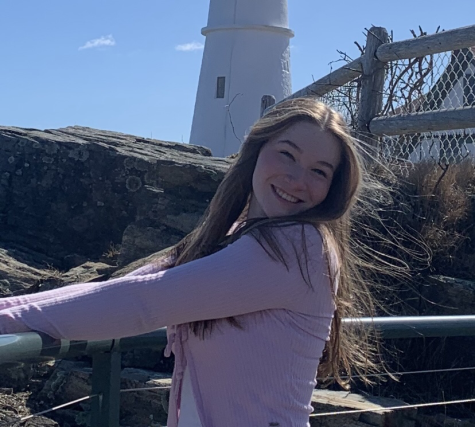 Norah Keys, Staff Writer
Norah Keys is a senior at HWRHS and a student journalist for the General Consensus. At school, Norah is the yearbook editor and a leader of the Outing...