Former president Donald Trump indicted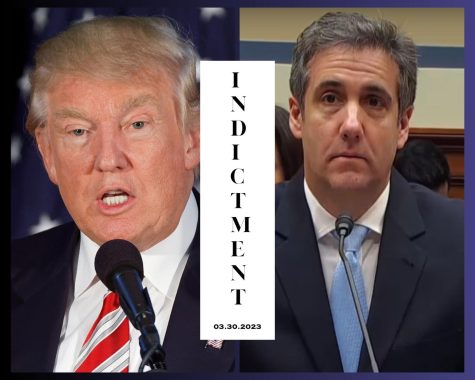 On March 30, 2023, in New York, former president Donald Trump was indicted by the Manhattan Grand Jury for 30 counts of business fraud. Investigations have followed Trump for several years concerning his personal, political, and business dealings. 
Currently, the indictment remains sealed, but charges center around the 2016 allegations that Trump paid "hush money" to adult film star Stormy Daniels, to silence claims of an extramarital relationship.  
Trump's former lawyer, Michael Cohen, has pleaded guilty to federal charges surrounding the hush money. Cohen admitted to paying Daniels a sum of $130,000 to keep her silent about her encounters with Trump. Cohen was then reimbursed by the Trump Organization.  The question is whether or not these payments came from personal accounts or were filed as business expenses. Cohen claims it was filed fraudulently under business expenses. 
Last week, Cohen testified before the grand jury twice.  Recently Cohen told CNN, "Democracy is more important than anything, and I know it sounds hokey, but my goal is to ensure that truth comes out and that truth to power is told."
Trump denies any wrongdoing and continues to ask his supporters to protest his arrest. Trump claims that the indictment is "political persecution," ultimately to prevent him from running in the 2024 election. Trump's defense lawyers, Susan Necheles and Joseph Tacopina, stated Trump did "not commit any crime. We will vigorously fight this political persecution in court."
Currently, Trump's legal team is coordinating his surrender to the Manhattan D.A.'s office.  The judge is expected to present the charges against the former president in the coming days. At that time, Trump's legal team can enter a formal plea.
Leave a Comment