Requiring shop classes ensure students are prepared for any future
Hamilton Wenham regional high school has several classes in stem learning. To name a few,  introduction to engineering, computer-aided design, and manufacturing. These classes teach vital skills like how to be independent and problem-solve in the real world. Yet many students miss out on the opportunity to get their "hands dirty." These classes should be required, and a student should have to take at least one before they graduate. 
Hamilton Wenham regional high school has been known for its advanced academics, but it has failed to push hands-on learning in shop classes. These classes are fundamental to enabling students to learn in ways other than pen and paper, these classes hone well-rounded individuals and broaden the learner's skillset. 
Besides the apparent benefits of guiding young adults towards independence later in life through hands-on learning, some would argue that these classes would provide a space for hands on learners, that requires students to be out of desks and use a different part of the brain in the middle of the day, then return to tackle their studies with their best foot forward. 
Shop and engineering classes should be pushed harder than ever before. Engineering is just another form of problem-solving, just like math and sciences- because it is a science that uses math. In a world where things become automated and computerized every day, physical engineering becomes more important than ever. If Hamilton Wenham doesn't push manufacturing and fabrication now, the risk of letting these skills turn into a forgotten language of the past becomes very real. 
This shift is already coming to light in California, where Forbes contributor Tara Tiger Brown states that "Shop class is not included in the requirements, thereby not valued and schools consider the class a burden to support. Los Angeles Unified School District (LAUSD) with 660,000 students in K-12 has already eliminated 90% of shop classes…"
These skills are needed for a variety of jobs. Annenberg Brown University conducted a study between 2009 and 2011 that looked at the job status of vocational students. Over 19% of students were involved in construction, more than any other career (business, hospitality, IT, etc.),  which shows how shop classes are absolutely crucial to the workforce.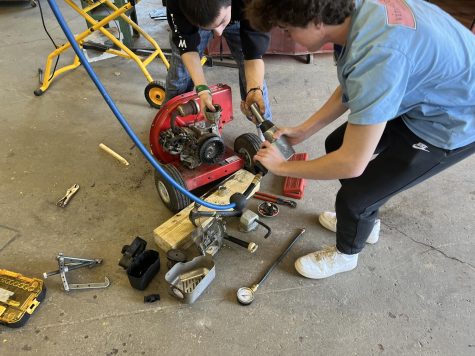 Students should not have to go to a vocational school to partake in hands-on learning. Shop classes should be readily accessible to all students. 
Shop classes are not just teaching skills that will provide job opportunities.  They provide students not only with the building blocks to gain basic knowledge of their surroundings in their adult lives, but also unlock a new realm of independence for the student so that they may provide for themselves and fix complex issues when things go wrong later down the line. 
Requiring at least one shop class before students graduate shows colleges and future employers that students are capable of a wide variety of skills and techniques in learning, and are able to solve difficult problems independently using their mind, their hands, and some tools. 
Leave a Comment
About the Contributor
Max Consolazio
Max Consolazio is a senior who enjoys writing poetry and tinkering with cars. Max is currently working on a collection of literature on BMW cars, comprising...