Day of Silence at Hamilton-Wenham Regional
A number of Hamilton-Wenham High School and Middle School students participated in a "Day of Silence" on Thursday, April 13, to support the LGBTQ+ community.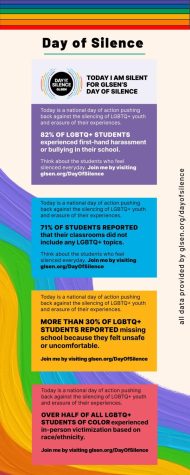 The GLSEN (Gay Lesbian and Straight Education Network) Day of Silence is a national student-led demonstration where LGBTQ+ students and allies can show their support by remaining silent for the day. One goal is to bring awareness to the discrimination of LGBTQ+ people, particularly in schools. 
At HWRHS, people who wanted to show their support without being silent were planning on wearing rainbow stickers. Some parents expressed concern for those who chose not to stay silent or wear the sticker. They worried they would be singled out. The sticker was removed from the agenda, and students were given the option to wear rainbow attire if they chose. 
The High School Principal, Bryan Menegoni, stated, "We want students to express their first amendment rights and show their support for their classmates, but we want to avoid a divide in the school."
At the end of the day, those who participated or supported the cause attended an assembly to "break the silence."  The purpose was to help build momentum and show commitment to making Hamilton-Wenham more LGBTQ+ inclusive. 
At the assembly, Cory Mashburn, a professional public speaker, discussed bullying and its effects. He shared personal stories about bullying and the toll it took on him and his family, specifically his transgender nephew. 
Mashburn explained, "My nephew is my hero. Despite all he's faced, he stands up for everything he believes in and pushes past the negative initiative of bullies."
Mashburn also stated, "This is important to me, it will be important to my kids, it will be important to my grandkids, and their grandkids. LGBTQ+ people will not just disappear."
For more information about the Day of Silence, go to the Day of Silence informational slides or GLSEN.org. 
Leave a Comment
About the Contributor
Paige Skellett
Paige Skellett is a senior at HWRSD as well as a writer for the General Consensus. Paige is a student representative for the senior class, a cheerleader...