Throughout the last year, natural disasters have been increasing. Although there have always been reports of natural disasters, there is discussion about whether climate change is starting to change things or if people are more aware due to the presence of mass media. 
In the past three months, the media has reported on wildfires in Hawaii, an earthquake in Morocco, flooding in Libya, and severe rain in Leominster, MA. 
About 2,170 acres of Lahaina, Hawaii is burnt. At least 2,946 people died in Morocco after the earthquake. In Libya, flooding has caused 5,000 deaths, plus 10,000 still missing. Even locally, intense rain has occurred in Leominster, MA, causing serious damage to the town. 
On August 8th, 2023, wildfires began to spread in Hawaii. The cause is unknown; however, it is suspected that it was started from downed power lines. There had also been dangerous winds and extremely dry weather before the start of the fires. It has mainly affected Lahaina in West Maui. At least 97 people died, and 31 are still missing; however, it is extremely difficult to get the correct numbers because almost everything is burnt, and therefore, it is hard to specify what is what.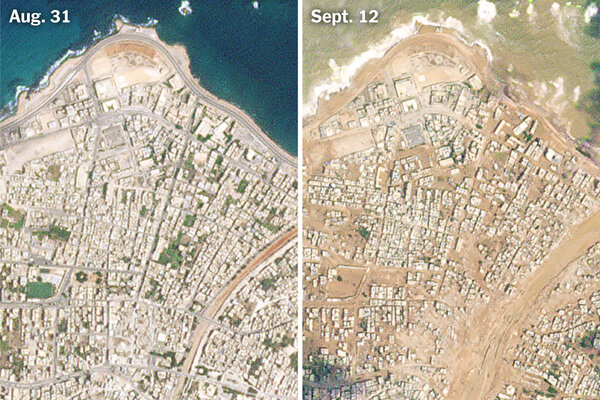 In Morocco, on the evening of September 8th, 2023, a 6.8 magnitude earthquake hit Morocco. It has been the strongest earthquake to hit Morocco in more than 60 years and has destroyed more than 50,000 homes. 
Three days later, on September 11th, 2023, 2 dams collapsed from heavy rains, sending a tsunami-sized wave through the city of Derna in Libya. CNN says that planet-warming pollution made rainfall 50 times more likely to occur and 50% worse. With thousands still missing, the death total could reach over 20,000. The flood swept through the city, destroying homes and sending buildings as well as people into the sea. 
More locally, in Leominster, MA, there has been serious flooding and damage caused. They received 10 inches of rain in 6 hours, which has caused around 25 to 40 million dollars in damage to city infrastructure, according to the mayor of Leominster.
Many have wondered whether natural disasters have been increasing recently. Professor Muñoz from Northeastern University, who studies marine and environmental sciences, believes there is a slight rise in natural disasters.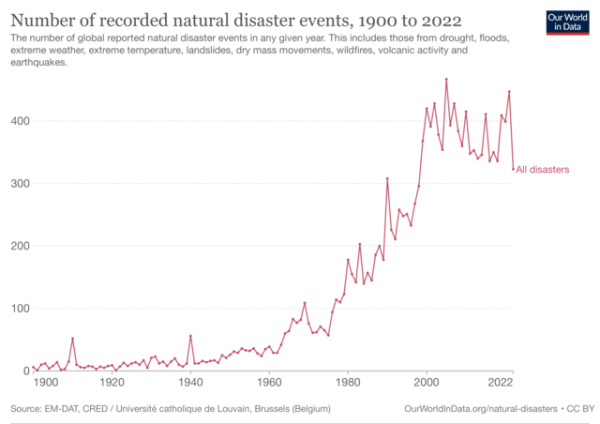 However, Muñoz was also quick to say that "Deaths from natural disasters have been decreasing as mitigation and adaptation to these hazards has improved." So, although there may be more natural disasters, people are starting to become better prepared, which has lowered the death rates. 
Dr. Barberopoulou from Tufts University, who studies natural hazards, hazard mitigation, historical earthquakes, and tsunamis, believes it is hard to know for sure if natural disasters are on the rise. 
Barberopoulou says, "Media coverage is a lot more intense now compared to a few decades ago. . .This gives us the impression that increased coverage means a higher frequency of events occurring. If one looks at the scientific literature, they will find references to disasters with a large impact in the past which are largely unknown." 
Barberopoulou went on to point out that an "accurate estimate a frequency plot would have to be made" in order to determine whether natural disasters frequency was increasing. One graph, created by Our World Data suggests that there has been an increase in natural disasters since 2000.
Both Barberopoulou and Muñoz agree that some natural disasters are unavoidable and part of nature. At the same time, Muñoz adds that the "likelihood of some types of natural disasters, like wildfires, floods, and drought, can be increased by climate change."
Barberopoulou agrees that natural disasters have been occurring since human beings have started tracking them. Barberopoulou believes that "much of the impact of disasters is human exacerbated." She points to such examples as infrastructure concerns in Turkey, which led to more damage being caused. 
While it is true that natural disasters have been documented throughout history, people are more aware of them because of media coverage. However, experts believe that global warming, as well as poor infrastructure, are playing a role in the severity of these disasters.