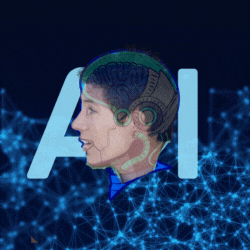 On November 30, 2022, ChatGPT was released, quickly causing panic among teachers and changing schools significantly. Many schools banned AI, arguing it would only serve to help students cheat on assignments. However, it can and should be used as a helpful tool to further students' education and help teachers. 
ChatGPT is an AI-powered tool that is capable of creating human-like text. It can help students rephrase wording for papers, give step-by-step help with math problems, and answer questions. Some students have used it as.
It can act as a teacher outside of school, and review students' work, and give feedback. A student who has used ChatGPT told the New York Times that it is "a good inspiration tool for students who lack ideas for an essay and it could also be used in a way to teach students the proper essay structure and many more key basic things".
According to a study by Intelligent.com, "Nearly 1 in 3 college students have used ChatGPT on written assignments," and a study from Cryptopolitan stated that of the students that have used AI, "68 percent of students believe AI has positively impacted their grades and academic results". 
There are numerous ways that AI can be used responsibly that will help students further their education. For example, there is an AI learning platform called ALEKS "that provides individualized learning paths based on student's strengths and weaknesses".  These types of tools can provide students with feedback and help while also leading the students to learn themselves instead of AI doing it for them. add more about ChatGPT.
Although there will always be some students who will use AI to cheat, the benefits of ChatGPT and other AI tools are too great to ban them completely. Instead, there are multiple resources that try to recognize cheating while grading assignments. For example, Turnitin.com is a great resource with multiple AI checks that will flag any possible AI use. 
AI doesn't just benefit students; it can also help teachers. There are numerous classes and podcasts that highlight how teachers how to use AI to create more engaging lessons for their students.  It has helped teachers fine-tune learning objectives and provide alternative ideas for assignments, etc.  It can even help with feedback.
A high school teacher told the New York Times that he used ChatGPT to test grade a few of students' papers, he stated that "the app had provided more detailed and useful feedback on them than he would have, in a tiny fraction of the time."  While this is not meant to replace teachers, it can help phrase feedback in a more useful way in a shorter period of time. This gives the teacher a second view on assignments and can catch things they may not see at first glance, resulting in students getting the best feedback possible. This could greatly benefit teachers and students because the grading process would be much quicker and give students feedback faster.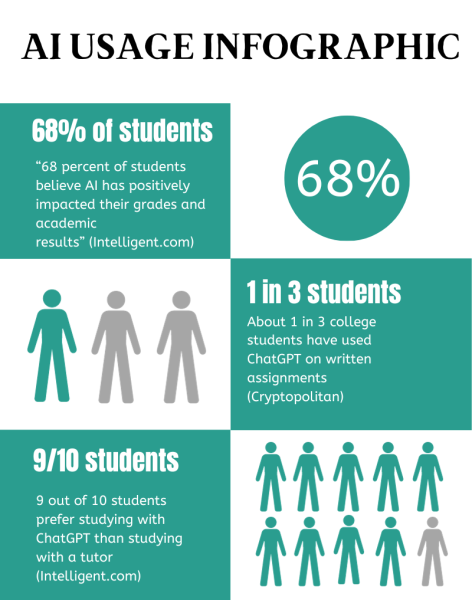 AI can be used in many other helpful ways as well. It has the ability to be a beneficial online tutor that can give step-by-step explanations on math problems and other multi-step questions. A study by Intelligent.com stated that "9 in 10 [students] prefer studying with ChatGPT over studying with a tutor". 
Certain schools are banning ChatGPT to try and prevent cheating. For example, all New York City public schools have banned ChatGPT on their school devices. Although this will stop cheating in school, it is not an effective strategy because students will just be able to access it in their homes. 
Some people believe it will hurt them. AI can be used to help students cheat on assignments, such as tests or papers. This also limits how much the student is learning because they aren't actually writing and using their brains, just letting someone else write it for them.
Students, parents, and teachers who agree that AI should be used in schools should go to their school board and request a policy change to unban or take some restrictions away. From there, teachers should be taught more about AI and ChatGPT and how to use it in the classroom effectively. At Hamilton Wenham, the handbook states that, "Claiming ideas from a book, article, or electronic resource (including AI language generators) as your own or including these ideas in your work without proper citation" is considered plagiarism. 
However, Kevin Roose from the New York Times says that "schools should treat ChatGPT the way they treat calculators — allowing it for some assignments, but not others, and assuming that unless students are being supervised in person with their devices stashed away, they're probably using one."
To take complete advantage of AI's potential, it should be normalized in schools. Because of its many benefits, such as helping students with their homework or grading students' work for teachers, it will provide an extremely useful resource for students around the world.