How the migrant caravan is affecting the United States
The migrant caravan heading from Central America to the United States could have affected the midterm elections on November 6th 2018. This caravan includes over 7,000 people (2,300 are children), some of which are families expecting hoping to live in the United States.
These migrants are risking their lives and their childrens' lives to get to the United States. Like many immigrants, they are coming here for the economic and social opportunities. However, they are also fleeing violence in their communities back home.
Migrant caravans are not new. They have been a popular way to enter countries illegally. One of the most recent caravans began in Europe during 2015. Many refugees from Syria and Iraq, who were fleeing from persecution and war, began making their way to countries like Germany and France.
Now the same thing is happening to the United States.
There are currently 5,600 US troops waiting to deny these migrants entrance to the United States. Their jobs are not to be violent or arrest the immigrants but to build a human wall. Some believe that this will, in some way, make migrants afraid to immigrate to the United States. They think that there will be less people coming into the country illegally, which is President Trump's goal.
One of the main reasons people are fleeing from their countries is that there is violence and poverty in their communities. Honduras has one of the highest crime rates in the world. The federal minimum wage in Mexico starts at $4.00 while the one in the US is $7.25, yet money has different values in different countries. One dollar in Mexico can buy you more than in the USA.
On Monday, October 29th, 2018, 600 of these migrants crossed Suchiate River but were blocked by the Mexican federal police. They had decided to risk their lives and the lives of their children by going through the river to get to the United States.
Initially, President Trump claimed that there are Middle Easterners in the caravan; however, he does not have evidence to prove this. There is a lot of speculation about the caravan, but all we know is that they are heading to the United States.
Trump and Republicans are determined to stop them from reaching the country illegally; however, they encourage them go through the legal process of citizenship .
If the migrants are successful in entering the country, many of them will apply for asylum while some will enter illegally, if they are even able to cross the border. Currently, the caravan is no longer together and has split off into several groups.
Many people believe that the migrant caravan has become a campaign strategy for the GOP leading up to the midterms. Trump may be using this as a strategy to sway the Republicans to vote.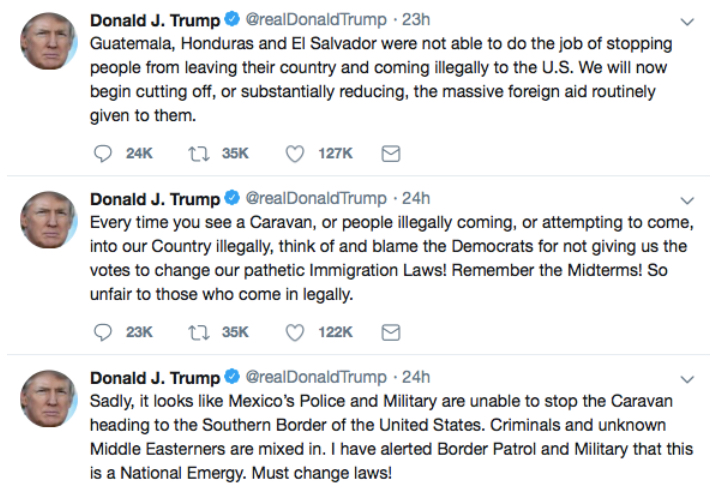 The Trump administration is determined to keep out these migrants by using the US troops to block the border. They do not believe in open borders and think the law should determine who enters and who doesn't.
Kelly Nielsen, the secretary for Homeland Security, promised that the migrants will not be allowed into the country. "My general message to this caravan is: Do not come. You will not be allowed in… There is a right way to immigrate to the United States and this is not it."
Some people think the government should deny their right to asylum and others are taking an active role in helping the migrants reach the United States. Mexico had done its best to provide safety and security for the migrants; however that did not convince them to stay in the country.
I interviewed Karlos Sotelo, 38, who is a therapeutic mentor from Chihuahua, Mexico. When asked why he came to the United States he said, "I came to get married to start a life with my wife."
He says he has a good life here and also had a good one in his home country. He said, "My favorite part about being in the US is having more opportunities to grow professionally." He then said that the racism in this country is his least favorite part.
When asked about the migrant caravan, Sotelo said it,"is a sad situation that people are leaving their home because they don't feel safe and they don't have jobs." He believes that it's time for comprehensive immigration reform in the United States.
The comprehensive immigration reform was an idea proposed by Sen. Harry Reid (D) to Congress in 2007. It granted legal status to 12 million undocumented immigrants. They would be given the same opportunities as the ones who entered the country legally. This bill was not successful because of the house of Republicans.
It's clear that some of the most important leaders in the United States are against this caravan, but some people have decided to remain silent. Many people are asking for the Democratic party to speak on this subject to get their opinion.
Charles E. Schumer, Democrat, stated that Trump is "desperate to change the subject from health care to immigration because he knows that healthcare is the number one issue Americans care about."
President Obama talked about the Republicans and said, "They're trying to convince everybody" in order to distract people during the midterm elections.
The more left-leaning stance on immigration is letting these immigrants in because they need help.
The Republican stance is that they should not enter illegally because it's a crime. They should apply for a path to citizenship if they want to enter the country. Senator Lindsey Graham (Republican) says "it's important that we keep this caravan away from the United States."
The migrant caravan is set to arrive sometime after our recent midterm elections, but it is predicted that many migrants will not reach the border, some will not be let in, and others will be deported. The only thing the migrants can do after that is apply to enter the country legally, like most immigrants hoping for a better life. The issue of immigration has left many Americans puzzled on how to react. For some, it affected their opinion on who to vote for on the midterm.
Sources:
Judd, Brandon. "Trump Is Right to Stop Illegal Alien Caravan Instead of Rolling out Welcome Mat." USA Today. October 29, 2018. Accessed November 16, 2018. https://www.usatoday.com/story/opinion/2018/10/29/donald-trump-keep-america-safe-block-migrant-caravan-border-column/1764682002/.
Hafner, Josh, and William Cummings. "'I Don't Care If I Die': Migrants Speak out on the Caravan, and What They Left behind." USA Today. October 24, 2018. Accessed November 16, 2018. https://www.usatoday.com/story/news/nation-now/2018/10/23/migrants-caravan-speak-out-why-they-left-everything-u-s/1738913002/.
Agren, David. "Fewer Caravan Migrants Marching to US-Mexico Border, Says Mexican Government." USA Today. October 24, 2018. Accessed November 16, 2018. https://www.usatoday.com/story/news/world/2018/10/23/migrant-caravan-president-trump-mexico-us-mexico-border-immigration-central-america-honduras/1736274002/.
Montes, Juan. "Largest of Migrant Caravans Splits Into Smaller Groups." The Wall Street Journal. November 12, 2018. Accessed November 16, 2018. https://www.wsj.com/articles/largest-of-migrant-caravans-splits-into-smaller-groups-1542059513.
Montes, Juan. "Largest of Migrant Caravans Splits Into Smaller Groups." The Wall Street Journal. November 12, 2018. Accessed November 16, 2018. https://www.wsj.com/articles/largest-of-migrant-caravans-splits-into-smaller-groups-1542059513.
Leave a Comment