How two schools are benefiting from one exchange program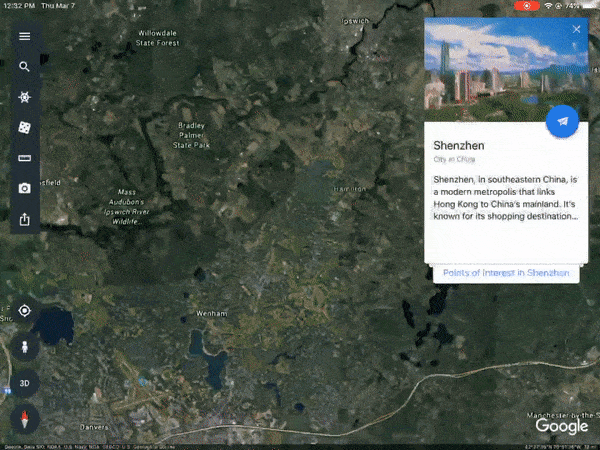 Culture is like the soul of a country. It differentiates a country from another one as well as carrying its spirit. When it comes to differences, so many things pop up in my mind. When it comes to Chinese culture compared to American culture, the food, language, people, life habits and ways of thinking are all different.
Since 2016, students from the Mingde International School in Shenzhen, China have been spending a week at Hamilton-Wenham Regional High School every January.This has been an opportunity for both schools to grow in their understanding of each other.
Although students from Mingde International School are not coming to visit this year, the relationship is still going strong.
Students from Shenzhen were unable to visit this year because of a typhoon that cancelled school. Since they had to make up those days during their vacation, they couldn't visit HWRHS as they have for the past three years. More students from Mingde International School will visit next year and for many years to come.
For kids at Hamilton-Wenham, it has been about learning another culture. Hamilton-Wenham is a small town that is not as diverse as other areas. Many students are not familiar with other cultures around the world; by studying with foreign students through this program, students are able to observe and learn about how one group of Chinese students hopes to complete their education in America.
Both schools hope to maintain this relationship so that they can share each other's cultures and learn from each other's educational systems. Along with being able to travel and explore new places, these trips can help students to have a new understanding of what life is like in a different community and country.
Mr. Tracy, principal of Hamilton-Wenham Regional High School, hopes to send students from HWRHS to Shenzhen within two years. Administrators from both schools have plans to discuss the idea before the school year ends. These are the next steps to maintaining and keeping the relationship growing.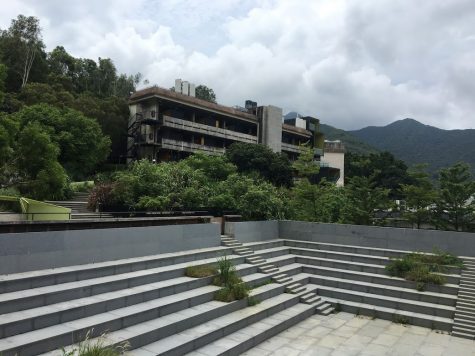 Mr. Tracy shared that "part of the long term plan is to be able to bring initially a small group over for ten days," then expand the program and have more students be able to go. He also told us that Mingde International School was even building dorms so HWRHS students will be able to stay at the school during their trip.
Along with sending students from HWRHS to Mingde International School, Mr. Tracy also hopes to send more teachers as well. This past summer, the 6-12 English Curriculum Coordinator and English teacher, Mr. Hickey, and a math teacher, Mr. Campbell, both visited Shenzhen.
While there, they visited Mingde International School and learned from their teachers. In addition, Mr. Hickey and Mr. Campbell taught them how to teach AP courses and to keep students actively engaged in their learning.
These two teachers spent most of their time at the Experimental School, where students take all of their classes in English and prepare to attend college in another country. However, they also visited two other traditional schools during their stay.
In an interview with Mr. Campbell, who traveled to Shenzhen from July 3rd to July 11th this past summer, he shared his favorite and least favorite parts of his trip. He told us that "getting an opportunity to experience a school in a different culture" was his favorite part of his time at the Mingde International School. Mr. Campbell and Mr. Hickey shared some of their teaching strategies during their trip, especially ways to get students actively engaged in class instead of just listening to lectures.
Along with sharing some strategies, both teachers taught sample lessons to a group of students with approximately twenty teachers watching and taking notes. Through their sample lessons and follow up discussions, they saw how the teachers at Mingde International School wanted to learn more about getting their students engaged and interested.
Even though Mr. Campbell enjoyed his opportunity to explore a school in a different culture, he said that his least favorite parts were a few of the foods and the flight. He recalls the food there as being okay and that it "was probably healthier but a little less tasty" and the flight as being very long. Just one part of the flight, from Hong Kong to Newark, New Jersey, was fifteen hours.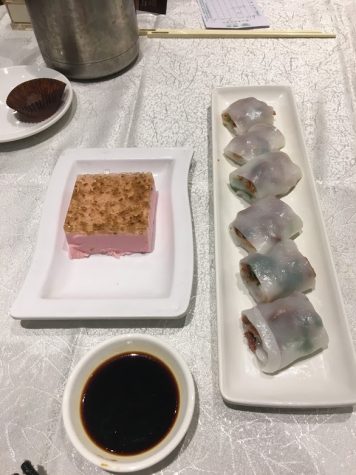 As Mr. Campbell found out, Chinese food culture is an interesting new experience for most people. Restaurants are completely different from "Gourmet Garden" and "Mikado". The crystal shrimp dumpling, Chinese broccoli in oyster sauce and the coconut buns are American favorites. However, eating these kinds of food probably would not require your bravery, so travelers to China should explore more of the local cuisine to get a real sense of the different culture.
Mr. Tracy said he was shocked on the first day when all the food served on the lazy susan were whole animals. He remembered there was whole fish, duck, and a frog! The organs of an animal are usually served in a soup. Duck tongues and chicken feet are usually the most flavored food. These dishes are very common in China. Mr. Tracy loved all the food, I also encourage the future students and students who one day travel to China should try it! Most importantly, it is about students here accepting another culture.
Experiences like these cannot be gained from reading or watching reality shows. It will last in your mind forever, and every time when you think back about it you will have a different thought.
He remembers his experience at the school as enjoyable with the teachers being "very eager to learn new teaching strategies, so they were a real pleasure to work with." Mr. Campbell also shared that, "We [Mr. Campbell and Mr. Hickey] learned a lot about how their school was set up. They had kids taking AP biology that had never taken biology before. Because their school is such a new school they might have had gaps in their curriculum like that."
While in Shenzhen Mr. Campbell recalls that they were able to see some of Hong Kong and a few of the national parks in Shenzhen. When asked about his trip overall, he shared that "the hosts couldn't have been more gracious." When HWRHS students begin traveling to Shenzhen, these American teenagers will find how hospitable the Chinese kids are.
If you meet a student for the first time, he or she will warmly treat you a lunch or even invite you to his home for dinner. Deeply influenced by Confucianism, Chinese embrace new friendships and feel a responsibility to treat others well as the host of the country to make foreigners' lives easier. As Confucius said, "Is it not delightful to have friends coming from distant quarters?" Therefore, it is considered as a virtue for Chinese to warmly welcome new friends.
However, when it comes to schools. Typical Chinese high school students are not provided the same opportunity as the students in Mingde. The great distinction between the Chinese way of applying to college and American way is the "Gaokao" system. "Gaokao" is one exam that high school students take before graduation and it will determine their future college options based on their score. In America, colleges do not only look at your standardized test scores, but also extracurriculars, strength of character and your passion for a better world.
However, "Gaokao" is the only exam that Chinese students prepare for throughout their young lives. Therefore, it creates pressure for most of the students. Many cannot reach their dream score due to the high pressure that comes with the test. Imagine, the pressure you would feel if a small mistake or even one point off on the test could change your college placement? College is an important step for Chinese students before their work.
In traditional high schools a class usually has 50 or more students. Different subjects are taught but, unlike in American schools, different  teachers come to a student's class, so students do not have to move classroom within classes.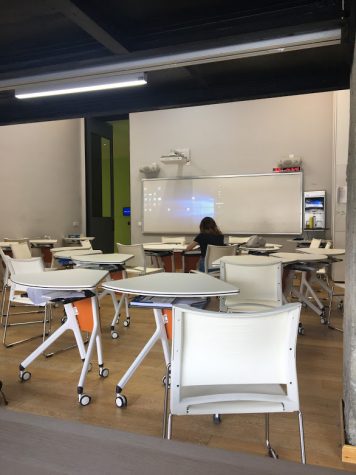 In most liberal arts classes, the teacher is the only one talking while students take constant notes without thinking. Main ideas of an article taught in class are already provided by the school. There are hardly any opportunities for students to brainstorm ideas or use critical thinking skills. The only dominating learning style is about repetition of so-called knowledge points.
This is why many parents and students in China are beginning to choose the unique Mingde Experimental School. And this is the reason why I left my beloved city and family to pursue education at Hamilton- Wenham. Although Mingde School does not require students to take "Gaokao," the road is risky because they have to make sure they have offers from American universities when they graduate.
Since this school helps to prepare students for studying abroad, the teaching styles are more similar to American high schools. This is what led Mr. Hickey and Mr. Campbell to this particular school – to present the authentic American teaching styles to all the teachers.
All the teachers from the branch schools under Mingde were invited to watch and learn the sample lectures of Mr. Hickey and Mr. Campbell. The teachers from China were impressed by the active class atmosphere and how the same groups of students can have such different performances inspired by American teaching style.
Mr. Tracy is planning on in the next two years – sending our students to Shenzhen for ten days. This journey may be the one trip that will entirely blow their minds. Flying from Boston Logan Airport will be approximately 15 hours to Shenzhen and all I can say right now is that the long distance is not even a challenge compared to things they experience later.
When the students enter the Chinese school dorms, this probably will be the first "culture shock." There will be no shower facilities in the school dorms at all! Humid summers with temperature of 104 F in the afternoons are common. Students shower once a week although hot water is provided in the faucet for washing faces and brushing teeth.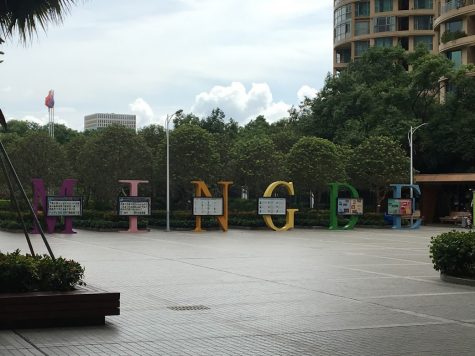 The second day, when you go to school, you will be woken up early to do a fascinating morning routines similar to the Chinese martial arts. You don't have to be embarrassed because the whole school will be doing it on the playground. If it's Monday, a class will be required to raise the flag of People's Republic of China. This is where the authoritarian Chinese government shows its influence on school education. It is a thoughtfully organized ceremony with army like uniforms.
The experiences will be completely different from the small towns of Hamilton and Wenham. Shenzhen is a megacity which lies along the coast of the South China Sea. It is a city with more than 12.3 millions of people. The weather is always warm throughout the year.
Although there are many attractions, what is most unforgettable is the city itself. Grab a few friends and walk around among all the skyscrapers. Various food stands are almost at every corner of the street.
Shenzhen is a city of different sounds. Vague noise coming from the construction sites break the dawn of the city at 6:00 A.M. Walking on the street, cars and bicycles rush by you. The buzz of the traffic, ambulance sirens, tourists chatter and all kinds of different people are a part of the city.
The relationship between HWRHS and Mingde Experimental School is a greatly valued one. During this experience the final challenge for Hamilton-Wenham kids in China is conquering their uncomfortable fear during the trip and walking out of their shelter-like high school life.
Through being in another country, it will inspire the students to reach out, observe and learn more about other teenagers lives. This exchange is a great opportunity for students to pay attention to the global community. The American students traveling to China would get to experience a culture very different from their own, and gain a newer sense of diversity not obtainable at HWRHS. While the Chinese students would be able to attain a taste of what college would be like in the United States. The unforgettable journey will be one for students to rise above their world.
Leave a Comment