What will the GOAT do?
Every Patriots fan, every football fan nationwide watched the TV with shocked faces as the underdog Tennessee Titans toppled the goliath that is the New England Patriots. The greatest player of all time, Tom Brady ended his season with a pick 6, losing the game 20-13. It felt surreal, and in many eyes, reflects the end of a dynasty and the eventual decline of Brady. 
Without a doubt, Tom Brady is one of the greatest players of all time, winning six Super Bowls out of 9 total played, as well as holding numerous records for passing, and both regular season as well as postseason wins. However, the decline in his performance has been noticeable this year. His pass completion percentage has decreased significantly in the last three years from 67 to 61%, according to nfl.com. Brady has never been a running quarterback but he could always compensate for this pinpoint accuracy and arm strength. This year he threw for, merely 24 touchdowns, his lowest in the last 11 years, and a far cry from his record 50 in the 2007 season. 
What Tom Brady should do is walk off into the Sunset, proud of all his accomplishments, and retire as a patriot, the team he has spent his whole career with. Brady is 42 years old, an ancient relic compared to the 20 sum starting quarterbacks in the NFL under the age of 27, as noted by CBS. Continuing to play, worsening in performance each year, will only tarnish his legacy and lessen his statistical accomplishments. Worse than this, playing for another team, which is a possibility, would be a betrayal of millions of Patriots fans who view him as nothing less than a God. Riding off into the sunset as a Patriot, the winningest QB of all time will solidify his legacy as the greatest player of all time. 
Unfortunately, I don't think that this is the plan. When asked about his plans for the future, especially retirement, Brady responded, "I would say it's pretty unlikely, but yeah, hopefully unlikely." This would indicate Brady plans on continuing to play. His next responses worried me, "I was proud to be a part of this team. Again, I just don't know what's going to happen, and I'm not going to predict it." and "I've loved playing for this team for two decades and winning a lot of games. I've always tried to do the right thing. Who knows what the future holds, so we'll leave it at that." 
Brady has never been so indecisive about his future before, and especially his future with the Patriots. Even more notably, his family's house has been put on the market. Willie Mcnnit, an expert on the NFL commented on Brady's salary, which as of 2017 was less than 12 other quarterbacks, who were all unequivocal less qualified and successful than him. He said " I don't think the hometown discount gonna happen anymore. When you look at all the players, the teams in the NFC, all those quarterbacks make more than Tom. There's a lot of players that make more than Tom with fewer accomplishments. I think that plays a big factor." 
What I say to all is this: How much is money worth to a man with a net worth of 180 million? The only reasons for Tom Brady leaving the Patriots would insinuate a big ego, feeling he is underpaid, and his desire to prove he can win without Belichick. Tom Brady should hang up the cleats, leaving his legacy as both a player and a Patriot intact. The debate is over about his greatness, and there is nothing else he has left to prove, but rather something to lose.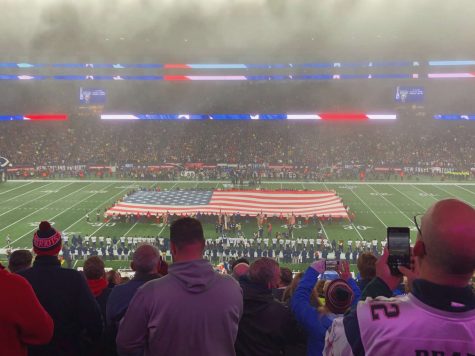 Leave a Comment