17 HWRHS Students Named Finalists at Mass DECA's 2021 State Career Development Conference
DECA Students Advance to Next Round
On Thursday March 18th, the Grand Awards Session was held to determine who would move on to the International Career Development Conference (ICDC), for the 2020-2021 school year. The students who placed in the top 12 spots in their category were declared finalists, and those in the top 6 qualified for a spot at ICDC. If students in the top 6 choose not to attend ICDC, one of the finalists will be selected to move on in their place.
The students who have qualified as finalists are Hannah Ciriello, Ella Tran, Julia Tsappis, Eliza Bassom, Sophie Bassom, Olivia Soolman, Sadie Condon, Ava Cote, Sophie Strozier, Olivia Currier, Ethan Howell, Damian Sorrenti, Haley Hamilton, Kara O'Shea, Rosie Safford, Collin Tiberii, and Lily Waterman.
Eight students from HWRHS qualified for ICDC this year. Lily Waterman placed first in the Hospitality & Tourism Professional Selling Event; Sophie Bassom placed third in the Restaurant & Food Service Marketing Category; Olivia Soolman placed third in the Integrated Marketing Campaign category; Sophie Strozier also placed third in the Human Resources Management category; Damian Sorrenti placed fourth in the Professional Selling Event; Eliza Bassom placed fifth in the Entrepreneurship Series; and Haley Hamilton and Kara O'Shea worked together in the Marketing Management Team Decision Making category placing sixth.
Each of these students participated in the Districts competition in January and scored high enough to qualify for the States Competition which lasted from late February through mid-March. ICDC is the final DECA competition for this year. For most students, Districts was made up of a 100-question test on their category and a role play: a 10 minute video response to a situation the student may experience in their industry. States competition was made up of a 100-question test and two role plays. Some students in certain categories did not take the test or do role plays and instead completed a written response and a presentation to a judge. Others did a combination of both.
This year's International Career Development Conference will be held virtually and will take place from mid-April through early May.
Congratulations to all finalists and good luck to all competitors at ICDC!
Leave a Comment
About the Contributors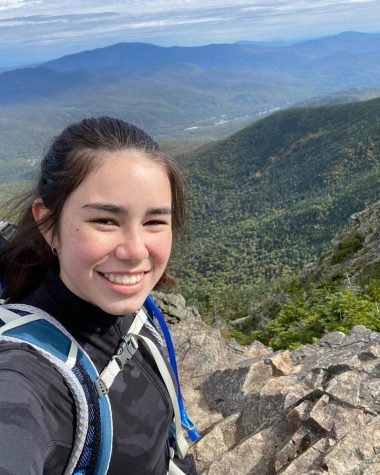 Ella Tran, Editor-in-Chief
Ella Tran is a Junior at Hamilton-Wenham Regional High School. She loves swimming and is a member of the HWRHS swim team, She enjoys playing the violin...
Sierra Rullman, Staff Writer
Sierra Rullman is a ninth grader at HWRHS.  She attended the Waldorf School at Moraine Farm where she enjoyed writing and creating art.  She plays the...