Bring fans back to the Regional
As the quarterback steps into the endzone untouched, the crowd, upwards of 5,000 people, erupts. This was the scene at the Westlake High School vs San Marcos High School football game in Texas. 
Westlake regularly sees attendance around or above 5,000 people. On special game nights, their stadium, built to hold up to 10,000 people, is completely filled.
However, this is not the case here at Hamilton-Wenham. One obvious reason is the population of Westlake High School, which is approaching 6 times the amount at Hamilton-Wenham. In addition, Westlake is located just outside of the city of Austin, Texas. Meanwhile, Hamilton and Wenham are small towns in Massachusetts with an accumulative population of about 12,500. 
This example does show something: the importance of supporting your school. Schools just like Westlake all over the country draw enormous crowds for sports events, whereas at Hamilton-Wenham, the largest number of recorded students in the last three years is 220. This counts fans from the other school too, so the audience of Generals wasn't even that number.
This year crowds are dwindling at Hamilton-Wenham football games. At home games, the attendance consists of parents of players, younger kids who play youth football for the town, and a handful of students. 
For other sports, it is even worse. The boys' soccer team only plays with a student crowd at various away games, and rarely sees the home stands come close to being half full.
The same follows for the girls' team, who, in my opinion, should draw some of the largest student sections, considering their 10-1-1 record and back-to-back CAL championships.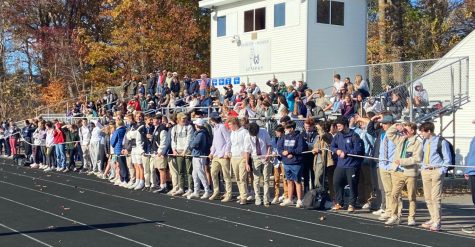 Students should start attending their peers' sports events because, as a player myself, I can say that it is always better for a student when their friends are watching and cheering their team during a game.
Some people may have reasons for not going, like sports practice, homework, or other extracurricular activities, reasons that are legitimate. But, because of the number of games that are played, for example, 14 games in the week of October 18-2, there are more than enough opportunities to go support a team.
Football games are generally the most-attended games but here they aren't as full as I think they should be. I think that a successful student section is when about half the student body is in attendance at a football game. That kind of crowd unfortunately hasn't even been close to being recorded this season. 
Home games are generally played on Saturday afternoons and are also generally about two hours. Both these factors make the games easy for students to attend. Normally, homework isn't a big factor on Saturdays. Even if it is a factor, the games allow for plenty of time before and after for homework. Also, while some sports may have events on the weekends, athletes are mostly free on those days.
It is clear that during the playoffs students attend games in far larger numbers than during the regular season. The question is, how do we raise the attendance from the beginning of the season? As a student at the Hamilton-Wenham Regional High School, I believe that students should support their school's sports teams by attending many of their games. Try to attend at least one sports game every week to show support for your school and peers.
Leave a Comment
About the Contributor
Harrison Stein
Harrison Stein is a Junior at HWRHS and is a Staff Writer for the General Consensus. Harrison had always been interested in journalism and wanted to try...