How Will My Posts Affect My Future?
While some use social media as an outlet for expression and communication, the platforms can offer an opportunity for others to be hurtful and disingenuous. Additionally, many teens don't realize the ramifications of their misuse of the internet.
When someone leaves data online, it can be attached to them indefinitely. This concept is called a digital footprint. A digital footprint is accessible to anyone, from a potential job employer to a college admissions officer or anyone of significance. An individual's digital footprint may become accessible to anyone with the simple search of a name, regardless of whether the information connected to them is positive or negative.
Officer Richards, a school resource officer at The Regional, talked about his experience with accessing a digital footprint. "I've done it before – you have to get a subpoena and a warrant from the court. We don't have it personally, but Rowley Police Department has it, and the state police have it. It's a program that they use to go in and download the phone in order to break into the device. The content then goes on a thumb-drive that they give us, and we take it back to the station and search everything on there that's relevant to the case. If it's not relevant to the case, then we can't look at it."
Online data can also be helpful in the college application process. As college admissions officers evaluate whether or not a student is compatible with their campus environment, they base their decision on many factors of students' capabilities. They also may address an applicant's social media presence. "About 65% of admissions officers view social media as 'fair game' when evaluating potential enrollees, according to a survey performed by Kaplan Test Prep in 2020" (Student Loan Hero, Inc.). These statistics reveal the importance of having an uncontroversial appearance on various social media platforms when applying to schools.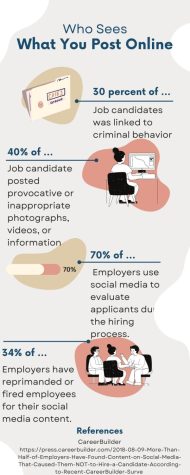 The consequences of inappropriate social media usage can be impactful and result in life-altering situations. The Harvard Crimson writes, "Harvard College rescinded admissions offers to at least ten prospective members of the Class of 2021 after the students traded sexually explicit memes and messages that sometimes targeted minority groups in a private Facebook group chat."  
According to screenshots of the chat obtained by the Harvard Crimson "students sent each other memes and other images mocking sexual assault, the Holocaust, and the deaths of children. Some of the messages joked that abusing children was sexually arousing, while others had punchlines directed at specific ethnic or racial groups. One called the hypothetical hanging of a Mexican child' piñata time.'"
Many similar situations of this incident have occurred over the years from many different schools and social media accounts. The results can be devastating yet preventable by being aware and thinking through the consequences of a simple and seemingly harmless click. 
Just like a college admissions officer, an employer can determine an applicant's compatibility with the position by looking at their online identity. Anything from provocative and inappropriate posting or unprofessionalism to discriminatory comments, drinking, or using drugs can be considered when evaluating a potential employee's compatibility. These instances can also be seen in work environments.
According to a 2018 survey done by Careerbuilder, 70% of employers use social media to evaluate applicants during the hiring process. And about 34% of employers have reprimanded or fired employees for their social media content. These statistics reveal that an employer has easy access to social media and may use it when evaluating an individual in a professional setting. 
Officer Richards said, "companies hire experts for big-name companies, CEOs, or high price jobs, just to go in and research peoples' Instagrams, Facebooks, and Twitters, to see if they can find anything because they don't want to be caught hiring someone with a sketchy background."
In 2010 Mike Bacsik, a previous pitcher for the MLB team The Rangers, was fired, from his job as a successful radio host, for making racially insensitive comments on Twitter after a Dallas Mavericks – San Antonio Spurs game. He tweeted, "Congrats to all the dirty Mexicans in San Antonio." Although he expressed his regret almost immediately and later released a public apology, the damage was already done. 
Ms. Cahill-O'Shea, a guidance counselor here at HWRHS, gave us her advice for anyone with an online presence. "Just be aware before you post, and maybe pause… just think, is it serving the purpose I want? 'Or maybe I will look at it tomorrow and see if the post is something that could hurt yourself or somebody else.' Think, what's the purpose, what's the potential harm of the post? It's important to stop, reflect, and not to overshare." 
From a young age, students have been taught that what goes around comes around. It would be a mistake to assume this is not applied to what people post on the internet. You never know what sorts of details of your "private life" can surface at an unexpected time in your life. It is important to pause and reflect in order to consider whether or not a post is hurtful to anyone, including yourself.
Leave a Comment
About the Contributors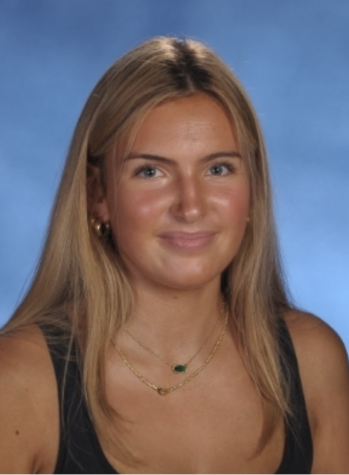 Birima Tanona, Staff Writer
Birima Tanona is a junior at Hamilton-Wenham Regional High School. At the regional, she is a member of DECA, the environmental club, and the lacrosse team,...
Andreas Jorgensen
Andreas Jorgensen is a Sophomore at Hamilton-Wenham and is a student journalist for the General Consensus. They have written only a few articles for the...