High school students bring back the hacky sack game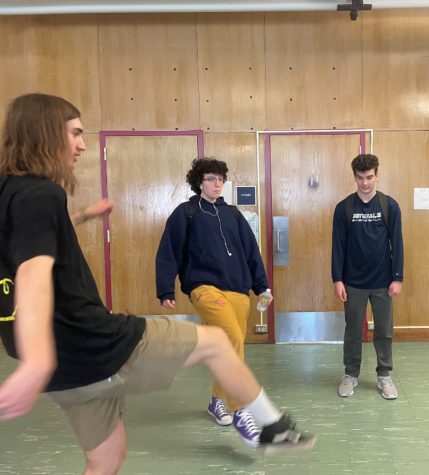 The Hacky Sack game that got nationwide popularity in the early 1980s is back. 
The game has lost participants since the late 1990's but lives on in small groups around the world. 
One of those groups is right here at our school, The HW Hacky Sack Club. They meet on Thursdays at 2:30 in the cafeteria. 
Oliver Fisher, a senior at Hamilton-Wenham Regional High school, and his junior friend Max Consolazio are responsible for creating this club along with the help of their advisor, Mr. Strozier.
Fisher said, "in my eyes, it is a primal form of connecting humans through energy, physical emotion, and spiritual connection."
Fisher and Consolazio came up with this idea early in the 2021-2022 school year while in marketing class.
It started out as two friends kicking the little crochet bag filled with sand back and forth, then slowly growing into what it is today.
Fisher says, "when we get together it consists of forming one big circle and seeing how many times we can kick up the sack and keep it up in the air while keeping track."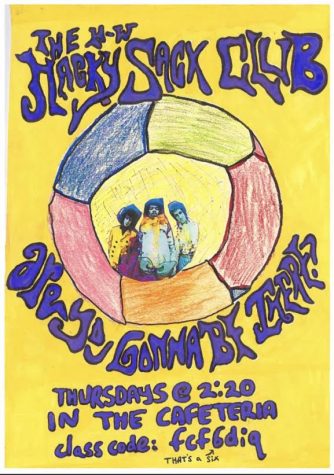 There is never a shortage of hacky sacks because Fisher and Consolazio both have multiple sacks on their person and the group has ordered custom Hamilton-Wenham hacky sacks for all the current members. They are available for purchase at the Generals' store, located in the lobby.
"Playing hacky sack and having random people stop by for a round or two– just getting people to join,  kids I've never talked to and teachers, it really breaks down the walls and differences between the people in the school and brings them together," Fisher says.
You can stop by the cafeteria Thursday after school and try it out or just observe, feel free to bring a friend. Everyone is welcome, even teachers.
You can follow them on Instagram @HWhackysackclub 
Join their Google Classroom with the code fcf6diq
View Comments (4)
About the Contributor
Shelby Laurajean, Student Journalist
Shelby Allen is a sophomore at Hamilton-Wenham Regional. Shelby loves to write. She has been writing since the third grade. This is Shelby's second year...