Frisco: The Regional's brand new facility dog
Say hello to Frisco! Hamilton-Wenham's brand new facility dog, the pup who has brought many smiling faces to the hallways.
Frisco is a two-year-old flat-coated retriever who spent the first two years of his life training to be a facility dog and has been certified through ACTS (Assistance Canine Training Services). Frisco's placement in the high school was made possible through the Hamilton Wenham Edfund, which approved the grant that paid for his training, allowing this initiative to go through. 
 Mrs. Stephens has been trained to work as his handler but will also train other teachers here at the high school to work with him to help him provide social-emotional support to any students in need. Frisco has already been attending classes with Ms. Maijenski. 
\"It has been amazing to watch how the entire student body has welcomed him into our school community. I love to see that students come to seek him out throughout the day and after school. He's really starting to settle into his place here, and I look forward to watching him grow in this role," said Stephens. She also takes care of another pet dog at home, giving Frisco a friend to play and interact with outside of the school walls.
Mrs. Stephens remarked, "We have an excellent school counseling staff to support students, and they are incredible resources. However, if students want to come see Frisco if they are having a difficult day, I want them to know that they are welcome to stop by anytime to sit with him. That's what he's here for."
Frequent Frisco visitor Alexa Sellars often finds herself gravitating toward the pup during the early hours of the day, saying, "He's really helpful in calming me down, I don't really love dogs, but Frisco is an exception because of how kind and sweet he is to me every morning in the lobby. "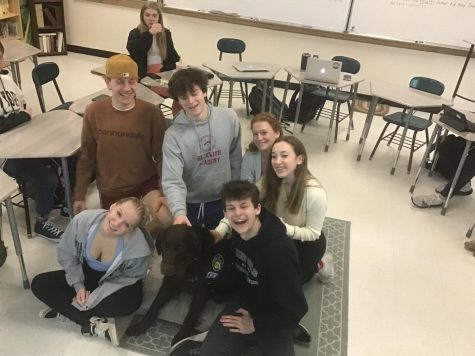 Senior Lucas Groberio said, "I am not a huge dog lover, but after a long day or a hard math test, hanging out with Frisco makes my day just a little better. I see kids go into room 110 throughout the entire day, and I am starting to see how much of an impact this dog is making at our school. If only we had him here four years ago when I was a freshman!"
In the ongoing mental-health crisis that is affecting thousands of teenagers around the country, facility dogs are becoming more common in schools and other learning environments, acting as a great outlet for any student or staff member who is stressed, anxious, or just needs a little boost of serotonin to get on with their school day. Several other Massachusetts Public Schools have welcomed therapy dogs into their learning environment, such as Leicester, Peabody, Pembroke, Marshfield, Wayland, and more.
Stephens believes that dogs have special qualities that bring comfort and a feeling of serenity. 
Sellars agrees, saying, "Frisco is a really great way to start my day."
Leave a Comment
About the Contributor
Owen Schmidt, Student Journalist
Owen Schmidt is a senior here at HWRHS and is thrilled to join the General Consensus. He has been an active member of the school's sports community, playing...