Study may make four-day workweek a reality
70 companies and 3,300 workers across the UK are partaking in a study testing the effectiveness of a four-day workweek. The businesses involved in the trial range from small local restaurants to large corporations. The workers participating in the study will work for 80% of their hours, receive 100% of their pay, and are expected to maintain 100% productivity. 
The six-month study is began on June 6th. It is being conducted by researchers from Cambridge University, Oxford University, and Boston College in partnership with 4 Day Week Global, 4 Day Week UK Campaign, and Autonomy.
This is the largest trial of a four-day workweek to occur anywhere in the world. The study aims to explore the impact of a shorter work week on workers' productivity and quality of life, the environment of the business, and gender equality.
Throughout the study, researchers will monitor each participating business to observe how the new four-day schedule is impacting employees and the business as a whole.
After millions of people worldwide quit their job during the pandemic in an event now known as "The Great Resignation", employers are looking for ways to attract and retain workers, while workers are looking for jobs that allow them to maintain a work-life balance.
Joe O'Connor, the CEO of 4 Day Week Global stated that "As we emerge from the pandemic, more and more companies are recognizing that the new frontier for competition is quality of life, and that reduced-hour, output-focused working is the vehicle to give them a competitive edge."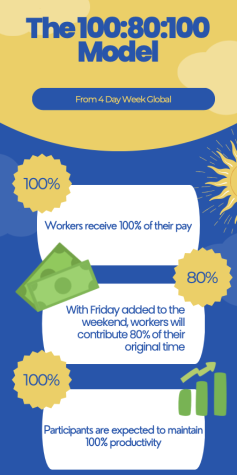 "The impact of the 'great resignation' is now proving that workers from a diverse range of industries can produce better outcomes while working shorter and smarter," said O'Connor.
This idea of a four-day workweek has become popular with employees. A Qualtrics study conducted in February found that 92% of American workers want a four-day workweek. The study also found that "employees say a four-day work week is the number one thing that would influence them to stay at a company longer — even more than unlimited vacation or paid mental health days."
The four-day workweek has been tested before. According to the Washington Post, "several large-scale trials of a four-day workweek in Iceland between 2015 and 2019 found workers were productive and happier, recording fewer instances of stress and burnout."
4 Day Week Global began a similar trial in April that involved 38 businesses across Canada and the United States. It is set to continue until September.
According to CNBC, O'Connor estimates that 10,000 workers will have been involved in a study conducted by 4 Day Week Global by the end of the year.
Other four-day work week trials are set to begin later this year in Spain, Scotland, Australia, New Zealand, the United States, and Canada. Belgium is already planning to enact legislation that would allow employees a four-day workweek upon their request.
Leave a Comment
About the Contributor
Lilly Glass, Student Journalist
Lilly Glass is a junior at Hamilton-Wenham Regional High School. This is her first year being involved with the school newspaper. Lilly enjoys writing...