Hamilton Wenham's new High school assistant principal
As this school year starts at the Hamilton Wenham Regional High school, so too does Jeff Becker's job as the school's new Assistant Principal.  
Jeff Becker was 1 of 8 candidates the school committee considered. The school principal Bryan Menegoni, was given the final say in who would be the new assistant.
When making the decision, Menegoni said,  "I got feedback from students, I got feedback from faculty, and they spoke very highly of him"
As the Assistant Principal, Becker is tasked with managing many things, including Student Conduct, MCAS, 504's and student schedules. 
Becker wants to keep the school as equal and fair as possible to benefit as many students and staff, He describes his job saying,  "I think I deal a lot with fairness in mind and equity in mind that I think helps to serve students and staff well."
In 2021, the position was temporarily filled by Kirsten Losee. Before she later switched to the assistant principal at the middle school. 
Becker said he chose Hamilton Wenham because he "was looking for a school environment that would provide [him] with the opportunity to get to know students outside of just the classroom."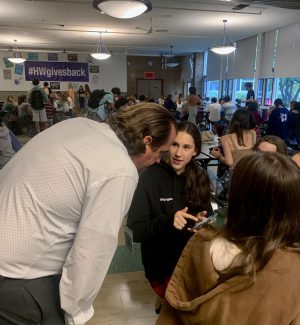 Beker said the most challenging part of starting somewhere new was  "not having those relationships yet, not knowing all of the students, all of the staff, family dynamics, and not having that information yet, is the challenge." 
Bryan Menegoni says working with Jeff Becker "has been wonderful so far. He has a lot of experience as an assistant principal, so we don't have to spend a lot of time talking about what an assistant principal does as he already knows how to do it."
At the moment, Becker can be seen helping students, cleaning up in the cafeteria, and coming into classrooms to see everything that is going on. He is always willing to talk, so stop and say hi the next time you see him. 
Leave a Comment
About the Contributor
Robert Hambelton, Student Journalist
Robert Hambelton is a Freshman attending HWRHS and is happy to be writing for the General consensus. He is excited to try his hands at journalism and has...