Student Spotlight – Aidan Heney: Athlete by day, artist by night.
Aidan Heney at first glance might just seem like your average high school athlete, playing sports year round on top of juggling his academics. Aidan may be a fantastic athlete, but he's an even better artist. From a young age Aidan has always gravitated toward art. Whether it was staying in during recess to sketch or dropping jaws in his painting classes, art has always been a part of his life. Although he loved art, he never really had enough time to flex his creative muscles, seeing that school and sports ate up almost all of his free time.
This was the case up until his sophomore year when he received a devastating shoulder injury during a baseball game. This injury not only kept him out for the rest of that season but also all sports for the following year and some change. In this time Aidan turned back to art, channeling his frustrations with his injury onto the canvas. From there he fell back in love with art, sketching for countless hours, discovering his style, and perfecting his skills. When asked about how he feels about his rapid growth in his skill as an artist he said, 
"
Art isn't exclusive in the slightest, as long as you are willing to put in the time you will see improvement.
— Aidan Heney
In his time at the Regional his favorite class he has taken has been Illustration because it allows him to use his favorite medium, which is Micron pens. He enjoys Microns because of their precision, which allows him to implement very fine detail in his art.
Although Aidan in recent times has returned to the field starting his first season of lacrosse, he makes an effort to keep improving his skills as an artist in his many art classes with Ms. Cooney. Recently he completed his piece called "Fighting Your Shadow," which was entered in the 6th District Congressional High School Art Competition held by Montserrat College of Art where it took first place. His art will be hung in the Capital building in Washington, D.C. for the following year.
Here's a little peak into Aidan's sketchbook.
Leave a Comment
About the Contributor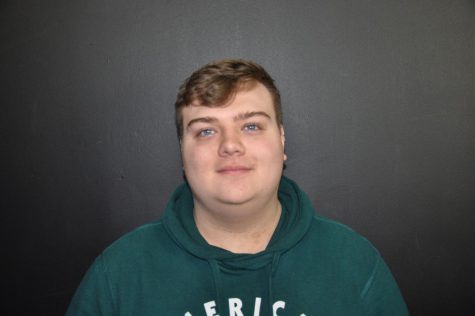 Adam Blanchard, Staff Writer
Adam Blanchard is a senior at Hamilton-Wenham Regional High School. In school he loves writing, especially poetry.  He also enjoys making art, including...