Join the vocal groups of Hamilton-Wenham Regional High for the Harvest Concert, next Tuesday, November 21, at 6:30 p.m., in the cafeteria. This event is free and open to the community. The Harvest Concert, Auction & Bake Sale is a longstanding tradition at the Regional dating back over 25 years. 
Concert Choir, Harmony, and Kings of the Beach will all be performing. Concert Choir is the daily chorus class at school, and Harmony is the honors choir which takes place weekly after school; both are led by Ms. Simko. Kings of the Beach is a co-ed student run a cappella group led by Jake Basinger, Annabella Connell and Morgan DeJoy. They are excited to share their live music which they've been working on during the first quarter.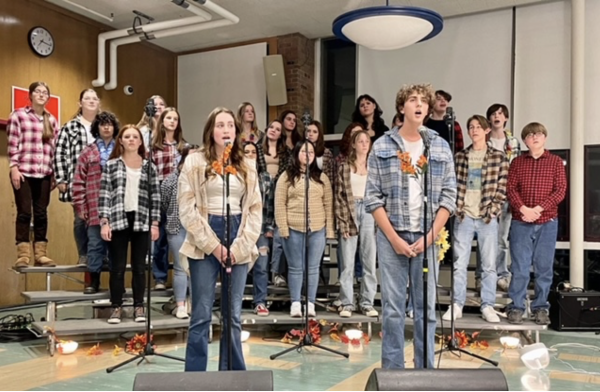 Before the music, bid on items at the silent auction and get an early start on your holiday shopping! This silent auction will include many different types of baskets put together by choral members. There will also be a bake sale to raise funds for the vocal music department.
According to Ms. Simko, "Harvest is a beloved Spirit Week event, and students can get points for their class by attending. Not to mention it's a social event with alumni, parents, families, teachers, and students coming together to enjoy some beautiful music and delicious baked goods. I love Harvest because, in the spirit of Thanksgiving, it's all about celebrating our community."
All of these groups are excited to share their selections with you and can't wait to celebrate this night before Thanksgiving break.