Hamilton-Wenham kicks off Red Sox opening day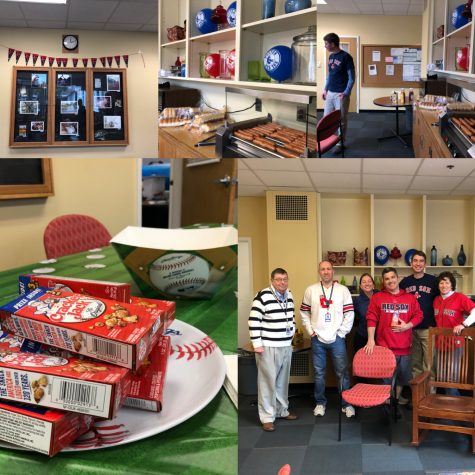 The Red Sox opening day is today, April 9th. The Red Sox will host the Toronto Blue Jays for their first home game of the season. It will kick of their 119th home season and their 108th at Fenway with the game starting at 2:05 pm.
The ceremonies will start at 1 pm today with the unveiling of the 2018 championship banner, the national anthem performed by the Boston Pops, a "fly-over" by four F-16 jets from the 113th wing of the District of Columbia Air National Guard, and the ceremonial first pitch thrown by New England Patriot's players Gronkowski, Edelman, and Gilmore.
Last year the Red Sox won the World Series with a record of 108-54. However the reigning champs are starting off this season rough with a record of 3-8 so far.
Today teachers and students are wearing their Red Sox gear to prepare for the first home game of the season. The teachers celebrated this day by having Fenway Franks and Cracker Jacks in the teacher's office. Every Boston Red Sox fan is excited for today's game.
This month there will be fifteen home games for the Red Sox with the average cost for a ticket being around $200.