The Hamilton-Wenham Edfund: supporting student learning in creative ways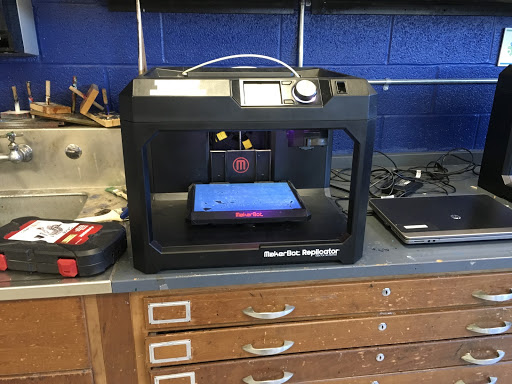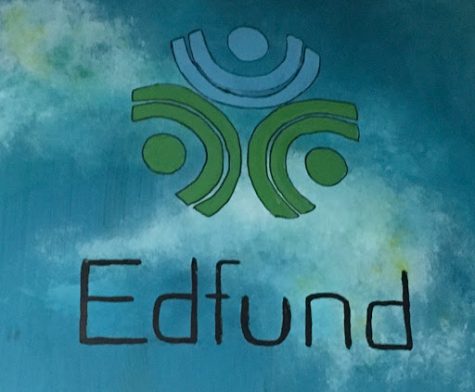 Photo by Luke O'Donnell
The future of Hamilton-Wenham Regional School District is in the Edfund's hands. Why is the Edfund so important to the Hamilton-Wenham Regional School district? Without it we wouldn't have the important advancements in technology present in our school system like we do now. It has funded grants to purchase computer labs, computer stations, digital cameras, smart boards, LCD projectors, and many other great technologies. The organization allows us to advance further and further as a school, even when our budget won't let us otherwise. The Edfund is a vital part of our community.  
What is the Edfund? The Edfund is a non-profit organization that provides money for the Hamilton-Wenham Schools to support learning that may not be possible through the school's original budget. Since the organizations was established in 1990, they have raised over a million dollars, and that number is only going to keep growing. The best part is that the organization is not exclusive; grants can be funded for grades K-12. The Edfund's one mission is "advancing educational excellence" in the Hamilton-Wenham Regional School District.
The Edfund gets its money from many different fundraisers and from donations from people like you and me. You can learn more about specific fundraisers that you and your family could attend to support the organization on their website (hwedfund.org) under the events section. Another way you could support the Edfund is not only by giving money but also by volunteering at events.
How does the Edfund decide which grants to fund? The organization chooses proposals that will have the most positive impact on a classroom, not only for today's students but students in the future as well. Also, the amount of funds available may be a factor in approving a grant. The Edfund tries its hardest to support every grant it can, but it takes time. If teachers want to submit a grant, they can go to the "Grant Criteria" section of the website to learn how.
I interviewed different staff members who have connections to the Edfund and got their opinions on how the fund has affected our community. Ms. Clapp, a science teacher at HWRHS, got a grant for a comparison forensics microscope. This type of microscope is different from a normal microscope because it has a motic camera hooked up to a PC. Students can independently focus on two items and compare them side-by-side on the screen.
When asked about the Edfund's impact on her class, Ms. Clapp said, "The HW Edfund had a profound impact on my forensic and A&P classes. I have been able to bring unique opportunities to students." She went on to describe how the Edfund funded a group of actors that performed "The Trial of Lizzie Borden." The trial of Lizzie Borden was a theatrical play about Lizzie Borden, who in 1892 was accused of the brutal murders of her parents with an axe. The students had to listen to the testimonies and decide Lizzie Borden's fate. In determining her fate, they also used the comparison forensics microscope to compare blood, fibers, and bullets.
All in all, Ms. Clapp said that "my students have benefitted so much for the Edfund's generosity!"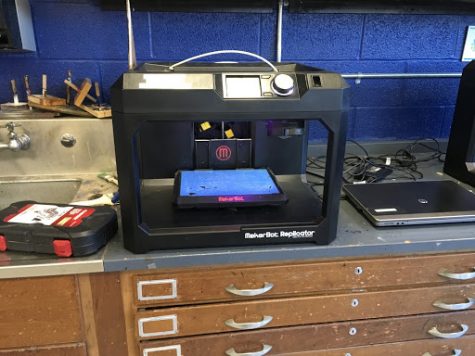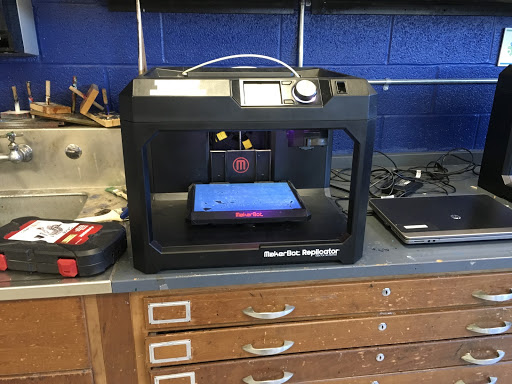 Photo by Luke O'Donnell
Mr. Shippen, a math teacher at HWRHS, received a 3D printer for his math classes. A 3D printer works by melting plastic and creating a 3D object one layer at a time. Our school has a plastic melting 3D printer called a "Makerbot printer." We also have a "Makerbot 2x printer," which prints in two plastics at the same time and opens up to more creative designs and color schemes.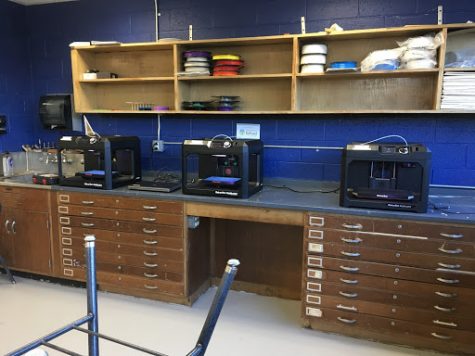 Photo by Luke O'Donnell
When asked about how the Edfund's grant has impacted his classes, Mr. Shippen said, "The 3D printer lab has been great for geometry." More specifically, he uses it towards the end of the year when his classes are on the volume, surface area, and 3D figures unit. The 3D printer teaches students solidworks and allows them to actually print their designs.
According to Mr. Shippen, "It's really cool because you get to bring in a totally different aspect in your classroom and make students look at a topic in a different light and actually apply it. So you go from this theoretical aspect of talking about geometry . . . to actually designing this thing and actually be able to create through printing. So it's made my lessons more tangible."
Mr. Shippen has recently submitted another request for a new grant for his Robotics Club. He is asking for $6,000 to fund his club's entry into the robotics competition this year. The second proposal is for $11,000 which would fund their entry for the first two years. The second request would cover the $6,000 for the first year and then the $5,000 for the second year.
Mr. Maher, one of the board of directors for the organization, said the Edfund was established and he said he didn't know too much about the origin besides it was created in the 1990s by "a group of people . . . who cared about education" who wanted to work towards advancing the Hamilton-Wenham School District and providing a better education for its students. At the time of the Edfund's creation, there were budget cuts happening in the schools and the organization thought it was their obligation to support the school and fund requests from the teachers. The Edfund's original mission was to raise one million dollars (which they accomplished) and once they had that one million dollars to continue to build an endowment in order to provide more grants to teachers. The Edfund usually gives one hundred thousand dollars each year.
When I asked Mr. Maher about why the Edfund is an important part of the Hamilton-Wenham community, he said, "The students of Hamilton-Wenham have an opportunity to have educational opportunities that might be beyond what a normal education in a public school can fund. No other schools around here have plasma cutters. That's something unique that they have and it's a technology that can be used in real life in engineering scenarios. Those are the things that regular school districts can't afford that the Edfund can provide."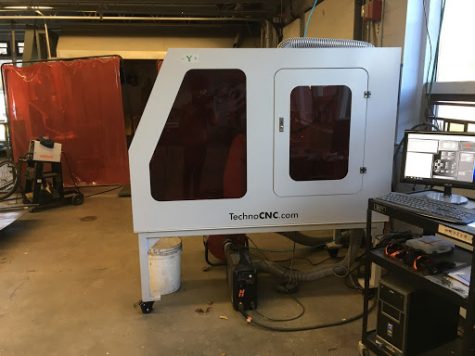 Photo by Luke O'Donnell
Mr. Walsh, who teaches about engineering, received that plasma cutter from the Edfund. A plasma cutter takes an image and turns it black and white, then cuts a line around the image, turning it into a vector. It starts off as a DXF file.  You can create any 2D image and then turn it into a DXF file and that DXF file gives the 2D image vectors or lines. The plasma cutter follows the vectors on metal and makes cuts anywhere there is a line.
When asked about how the plasma cutter has benefited his class, Mr. Walsh said, "It's given my students a more professional environment to work in." Similar to Mr. Shippen. Mr. Walsh talked about how this grant allows students to get a real hands-on understanding of how things work instead of hypothetically thinking about how things work.
Mr. Walsh also talked about how it allowed his students to be more creative: "They actually get to come up with an idea, create that idea on a professional program, and then use the plasma cutter to print out whatever that idea may be."
A trend with all of these grants seems to be that they help students to have a better understanding of the learning material and allow them to be more creative.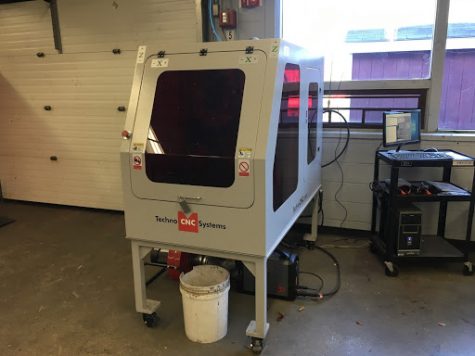 Photo by Luke O'Donnell