Mrs. Simko's Spotify playlist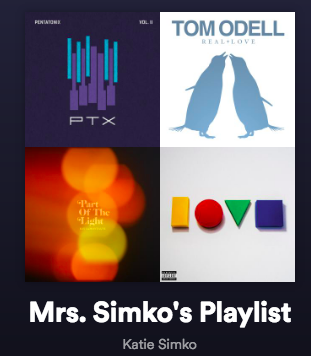 This addition of the Spotify Playlist features Mrs. Simko! Her playlist contains a little bit of everything-from Pentatonix to Zac Brown Band to Led Zepplin to Sarah Barellis and even a little bit of Hamilton, the musical. This playlist has something everyone can enjoy and that is what makes it unique.
Ms. Simko's favorite artists of all time are Sarah Barellis (a Soul/Pop artist) and Tom Odell (an Indie Pop artist). Her favorite feel-good song right now is Zac Brown Band's cover of "From Now On" from the movie musical The Greatest Showman. Her favorite musical right now (as shown on her playlist) is Hamilton because "it never gets old!" Ms. Simko identifies a good song as one that "draws you in and makes a connection."
You can also check out Ms. Simko on Spotify as she has her own EP titled "Perfect June" and a single titled "You Can Do Better." Find her by searching Katie Simko on Spotify or check out the link down below! She also stated that she is "working on a couple projects now that [she] hopes will come out in 2020," so keep a lookout for those!
Ms. Simko's Favorite Songs Playlist:  https://open.spotify.com/playlist/0P7pJqNeB5FKkWn0uUcMcn
Listen to Ms. Simko on Spotify: https://open.spotify.com/artist/7zWwT7aGUbjjRpnfLj82h6