Goodnight streaks ;) how Snapchat has revolutionized the world
Your finger glides over the yellow app with a white ghost. You respond to a few Snapchats, then decide to try out the many new face filters of that day. Before you know it, half an hour has gone by, and you have forgotten how long you've been looking at your phone.
You place your phone in your pocket to limit the distractions, but your phone keeps buzzing; all notifications from Snapchat.
It's crazy to think that a simple app such as Snapchat has become such a large part of social interaction online. The app uses special lenses, photo filters, and stickers to create a fun and interactive appeal. The app itself allows the user to do many things, but the main purpose is to take pictures and send them to friends. Once the pictures and/or selfies are taken and sent to a plethora of contacts, teens wait for a response.
While these features seem harmless, the Terms and Conditions state you have to be 13 in order to use the full functions of the app, but many lie about their age in order to get full access to the fun features. Is Snapchat dangerous for younger teens and middle schoolers due to the fact that the app requires users to be 13 or older?
Wayne Parker, a writer for VeryWell Family, suggests that Snapchat has a dark side. He underlines that despite the app's ability to give teens an enjoyable approach to texting, "Apps like Snapchat remind parents that we need to be vigilant about our children's smartphone use and to monitor their activity to prevent problems like sexting, cyberstalking, and cyberbullying." As the app allows teens to gain access to the world around them, many are exposed to the potential dangers that lie within.
One of the downsides of Snapchat's popularity is that it makes it easier for teens to bully others. Teen Safe Online blog states that 87 percent of today's youth have witnessed cyberbullying. Cyberbullying is a term often heard within schools, as it could fall under comments regarding an individual's looks, religion, gender, or personality, as many have received a negative message online. Students around the globe have witnessed teens send rude messages to their peers and simply stare at them blank-faced, unsurprised and unfazed by the kind of cruelty that has become the norm. Snapchat comes in third in the list of social media platforms most used for cyberbullying.
Snapchat is designed for safe usage, however, many teens use the online platform negatively. The app has grown tremendously since 2011, as more teens than ever are signing up. Bullying Statistics, an online blog for adolescent bullying states that "Over 80 percent of teens use a cell phone regularly, making it the most popular form of technology and a common medium for cyber bullying."
Now To Love, an online news site published the story "Cyber Bullying: "My Daughter Was Suicidal Because of Snapchat Bullying", covering the concept behind cyberbullying and its effect on teens. Lorna Gray, the mother of Eva Gray, felt as though she could not protect her daughter from online apps that allowed her to communicate with friends. Lorna had noticed her daughter had self-harmed and admitted her to a hospital. What Lorna did not know, was that her daughter was being bullied through Snapchat. Eva had told her parents that the "majority of the bullying was happening on the social network Snapchat." Carl Gray, her father, unaware of the app, stated: "All I want is to do is protect her and I can't protect her." Lorna wanted the best for her twelve-year-old daughter, and to see that her pain was caused by a simple app tore her apart. "I can't begin to describe what it's like to hear your child wants to end their life," Lorna states when describing her personal experience with her daughter.
Many parents remain unaware of the dangers of Snapchat and how teens as young as Eva are being targeted and bullied. Because teens are able to say what they want without actually talking face to face, many are able to say hurtful things, out of sight of adults. Teens also feel protected by the fact that Snapchat pictures disappear within seconds of opening that red box. The Snapchats disappear, meaning they go away in 10 seconds or less.
Chris Mckenna, an author of "Protect Young Eyes," an online platform for parents, reflects on the idea of online bullying and Snapchat's main purpose of disappearing photos. He states that there is "a harsh reality in our 24/7, always online, viral world…kids no longer have safe places." Mckenna feels that "Once the bullying snowball starts to roll in the digital age, it continues to roll and build up speed even when the kids involved are separated by physical space." He explains that the separation between screens allows users to say things without physical communication. This removes teens from their actions, making bullying easier, and far less likely to be stopped by a responsible adult.
Although Snapchats disappear after opening, users have the ability to save a photo or video in other ways. Kayla Samoy, an author of U.S.A Today, explains that "many users think that because the app lets you set how long photos appear on a receiver's phone — between one and 10 seconds — they will disappear before they do any harm. This is clearly not the case. Why? Because recipients can save them easily by taking a screenshot or even a photo with another device." Often teens screenshot funny photos of their friends, as well as screen-record funny videos sent by another user. In this case, screenshotting is normal, but many teens make the mistake of sending provocative photos to users who screenshot the photo. Because the app has no protection against inappropriate use, teens' photos can easily be spread and eventually make their way through schools and other students' phones.
Many use Snap Maps, a feature that allows users to view other users' locations. This may seem harmless, as friends like to see what their friends are up to, but it's not as safe as it may seem. This can easily turn into a privacy and security issue. Teens who enable this feature could be in danger if not aware of the feature's purpose. Teens who share their location publicly expose themselves to dangerous individuals and situations that many of them don't even consider a possibility. Many users have contacts on Snapchat that they don't personally know, which is potentially dangerous. The best way to make sure no "strangers" can see your location is to turn it off or allow only friends access.
Snapchat is not all bad, as the negatives do not necessarily outweigh the positives. The app itself has revolutionized modern social interaction.
Snapchat's main purpose is to allow teens to connect with their friends on an interactive platform. Teens are able to make it as safe as they wish, by monitoring who they add into their contacts. Its goals have been achieved, as 75 percent of teens use Snapchat according to Science Daily online platform. How did such a simple app attract so many teens from all over the world? There's something that teens love about Snapchat. What is it?
Ishan Haque, an author for Business Insider, shares his viewpoint on teens' interest in the app. He states that "There's no social pressure. No likes, no comments, just views that only you can see." As a teen with Snapchat, this is one of the reasons I enjoy the app. He also adds that "It's quick and easy." You "open Snapchat and take a photo" and  "add it to" your "story". "Now all your friends can be jealous in real-time that they couldn't go to the party because they had to study". Haque highlights that teens enjoy the quick process, because they don't have to worry about likes or captions, and they can monitor who sees their stories, unlike other popular social media apps like Instagram.
Snapchat is a way for teens to constantly communicate and share selfies and fun photos and many use it to make new friends. I, for one use Snapchat in many ways, one of which is sending photos to my friends in order to keep in touch. It almost feels as if I don't use Snapchat, then I have not seen them. It's interesting that an app that simply allows users to send selfies to their friends has given teens a new platform of communication in our modern world.
One thing teens learn to do is express how they feel over the app. However, many users are prone to saying things that they wouldn't say in person.
Taylor Lorenz, an author for Business Insider covers the topic of 'streaks' and what they are. Teens' Snapchat use appears to circle around the basic feature of Streaks, a term used frequently within the app. The idea of a streak is simple to understand. Two users have to Snapchat for three days, and after that day the number three will appear next to both usernames on the app. As the days continue, the streak builds, and many teens have streaks as large as 1000. Lorenz states "Snap streaks have become the default way to measure success on Snapchat, which is famous for its lack of a follower count. But before you go starting streaks with everyone in your recent, know that it's more about quality than quantity." The idea of quality over quantity stuck with me, as this idea has led me to snap only a few people. Many teens forget that the app is not about popularity, and is actually to connect people with a fun and interactive approach. I agree that you don't have to worry about follower count, but many teens feel as if they need to Snapchat their whole contact list.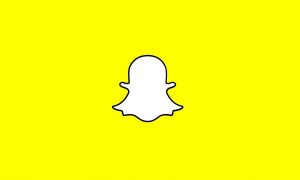 Business Insider, an online news base that covers a broad variety of topics, published a story on teens usage of Snapchat around the world. Taylor Lorenz, the author of the story covered the topic of streaks in her interviews with teens. Teens around the globe feel as though streaks connect friends, and are the sole reason Snapchat still runs. "It's a way to measure your friendship in a good way," Samantha Barkho, a 15-year-old from Oakland, New Jersey, said. "It's a cool way to see how long you've been talking to someone." I agree that you can measure how long you have been talking to someone, but in some way,s this is not something that defines a friendship.
We got the opportunity to chat with some students around the school, pertaining to the app, and how the teens use it. Justin Tremblay, a junior at the high school stated that he uses the app "10-15 times an hour", and flips his phone to see if he received snapchats often. When asking him about the concept of streaks and if he likes them, he responded, "no not really. I have like 10". Because the opinions on streaks varies, Justin provides his opinion by saying "I used to have like thirty.. I snapchat a lot less people than I used to, and I do not think streaks are important".
Ella Stock, a senior in the high school differs greatly in her snapchat usage than Justin. She has traveled to England and Israel, and is involved with rowing, her main sport, and has connected with many groups of friends. Ella responds to the idea of streaks by saying "I have streaks, not to just do it. Ithink it's a way of communication." When asking Ella if she gets distracted by the app, she states that, "I have notifications on my screen but it doesn't make noise, i frequently look, I mean they pop up, but i don't think it stops me from doing anything". She seemed to have a strong opinion on the safety of the app, as she concluded by saying "I believe that i don't know everything about it. The idea that you can only see pictures for 5 seconds is unnerving.". She is correct as it does place an uneasy feeling in the user knowing that snaps do not disappear forever. That is a debatable concept, but no one really knows the truth. When summarizing her opinion on snapchat, Ella stated, "Texting someone is another whole relationship than snapchatting them".By this, she explains that texting is more effort than snapchat, as the texts do not disappear like Snapchats do. She believes that Snapchat gives her the ability to communicate with all groups of people, as texting limits her, as she does not have all of her friends numbers.
She explains the idea of texting and Snapchat, and adds that her Snapchat has very informal users, that she does not have their numbers. She uses this point to explain how texting is only used when there is a text or message that is to urgent for snapchat, and that Snapchat makes communication easy for simple messages.
The last student we interviewed was Finn Brophy, a Junior within the school. As he stays connected with the app, he talks to most of his friends through the app. When asking Finn an array of questions, his general statement about snapchat was"Im a daily snapchat guy" he stated that he opens the app throughout the day my usage is very consistent". When asking Finn about the safety of snapchat he responded by saying "I believe the app puts a lot of responsibility in the users hand, but i believe it can be used in a safe way." We asked Finn if he sends things over snapchat that he wouldn't over text, as he responded by saying, "Yes sometimes, but it happens to the best of us"
Most students use Snapchat safely, but for those who don't, they think they are invincible. It is important for students to understand that anyone has the power to screenshot what you send on snapchat, so tread lightly and stay safe and kind.