DECA: Are you ready for it?
Life for students moves faster than we ever realize. One moment you are a freshman trying to navigate the daunting halls of high school, and then in the blink of an eye, you are a senior, searching for colleges and a career path you are passionate about. Are you ready for it? The students a part of the local Hamilton-Wenham DECA chapter are.
Not only is "Ready For It" the national theme of DECA this year, but it also encompasses the entire goal of this program beautifully: to develop emerging leaders and empower these students to provide effective leadership through goal setting and project implementation. For the past few years the opportunity to participate in DECA has been open to students, and this year it has gained a lot of traction, and I mean a lot.
If you haven't heard about Hamilton-Wenham DECA yet, then chances are you will soon. It is the fastest growing club in the high school and members have an extremely high success rate at competition. Many students from all grades moved on to compete at states in Boston, and a few are now moving on to nationals in Orlando.
DECA has grown a tremendous amount and has enriched the lives of many students in the short time the program has been running at the school. I spoke with these members, as well as officers to try and unpack the importance of DECA, its growth at this school, and the impact of this organization on the older students as they get ready to graduate and move on from high school.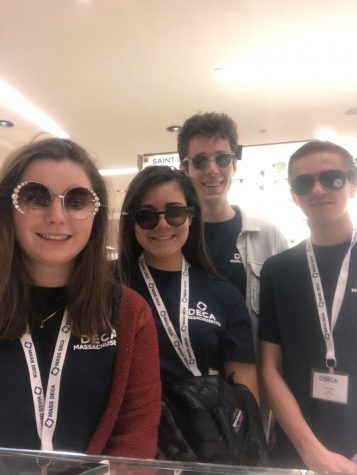 Students who participate in DECA generally enroll in one of the qualifying classes. Enabling the students to gain basic knowledge of marketing, finance, public relations, crisis management and much more. But, this is just the start of their DECA journey. Once students have enrolled in a qualifying course, they start to prepare for competition. Students can compete in a variety of events from principles of finance to travel and tourism to sports and entertainment marketing. There is something for everyone's interests and skill sets!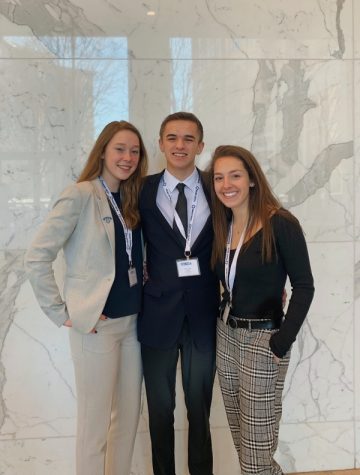 To answer some of my questions, I spoke with current DECA President Tyler Vesey. He is a senior at Hamilton-Wenham this year and has been a part of our local DECA chapter for the past two years. Tyler told me that he first wanted to join the program because "I wanted to join the program to get a new experience and have some fun with friends. I heard from friends that participated the year before that you could go to some pretty fun places like California and Florida and I just wanted to try it out."
I was curious to ask our DECA President if this program has helped him outside of our academic environment and he explained, "It has helped when presenting myself outside of school. I have gone on a few job interviews since joining DECA and my public speaking skill has gotten noticeably better. I think overall I have learned to present myself in a professional manner, which has benefited me greatly in the roles that I have interviewed for." DECA has seemed to help students grow not only in this academic but also a professional one.
There are 191 members of DECA this year. The club added on a substantial amount of member since first coming to Hamilton Wenham in 2015-2016 school year. Then it was just a few students, now Vice President Lauren Verge and Officer Valerie Wise, among them.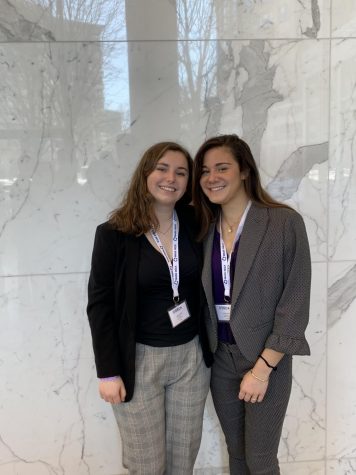 Along with the addition to the club and competition, the DECA chapter has always brought several business-oriented classes to the school: a general full year marketing class, a half year sports and entertainment marketing class, as well as a half-year financial literacy among many others. These classes will soon be qualifying courses in order to participate in DECA at a competitive level.
This year the Hamilton-Wenham DECA chapter is brought 80 out of the 105 students that qualified for DECA states. States was held in Boston at the Prudential Center, and students competed over the weekend of March 8, 2019. It was important to do well at that level of the competition, as states is one of the stepping stones to get to their ultimate goal of competing at Nationals, which this year is being held at Orlando, Florida near Disney.
Seventeen students placed at states and qualified for ICDC in Orlando, and several more members are joining and attending seminars while also supporting their fellow students in the competition.
Those who qualified to compete at ICDC include: Brendan Callahan ('19), Audrey Kiarsis ('21), Sophie Doane ('20) and Jordan Story ('20), Bryn Smith ('19), Ava Halstead ('20), Klaudia Rushi ('20) and Sarah Traverse ('20), Tom Kain ('20), Tom Flynn ('19) and Mike Rebello ('19), Lauren Verge ('19) and Val Wise ('19), Emily Minster ('19) and Julia Sauriol ('19), as well as Charlie Clapp ('21), Owen Leonard ('21) and Jack Mulvihill ('21).
Senior team Emily Minster and Julia Sauriol competed in the Business services operations research category this year. Their presentation was on Mojo cold brew coffee, and they did extraordinarily well for their first year in the program. At states, they won 5th place overall, and are now looking forward to competing at ICDC in Orlando.
Emily told me that, "Both Julia and I are very excited to be moving onto ICDC. Honestly, this is basically a senior trip for us, as we are so busy and it should be a very fun and enriching experience."
Emily's partner and good friend Julia Sauriol told me, "DECA has been a surprising experience. I never realized how much it had to offer us. Emily and I tend to do a lot together in and out of school, so joining DECA together just seemed really natural. I'm proud of our accomplishments in this short amount of time, and I am extremely happy that DECA is part of the conclusion of my senior year."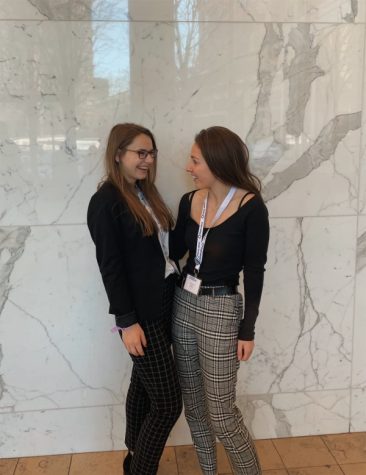 DECA has enriched the lives of many students and has brought a variety of new and important classes to the high school. It always surprises me how few "real world" application classes we are offered at the high school. Not to devalue core classes or the importance of basic courses like English or math, but the reality is we not asked to pull from many of the lessons that we are exposed to in these classes once we enter the workforce. I think it is so important that DECA is introducing students to new roles that are instrumental in a business environment. The more we are exposed to now, the more impressive we will be to all those in a professional environment.
DECA is an incredibly beneficial program that has been enriching the lives of students for years, and now that we have our own chapter Hamilton-Wenham can be apart of this great organization. What DECA does for students both in school and out is incredibly important, and I believe adding DECA has only enriched the Hamilton-Wenham community and student life.
Leave a Comment
About the Contributor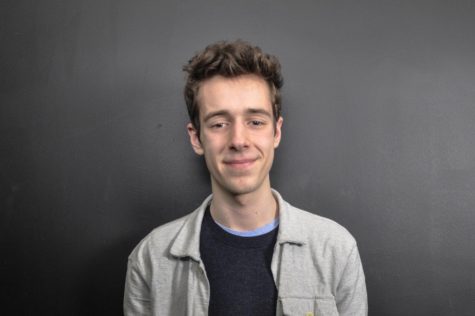 Brendan Callahan, Editor-In-Chief/Graphic Designer
Brendan Callahan, a senior at HWRHS, is excited to be creating content for The General Consensus and progressing the design of the site. At school, Brendan...