HWgivesback Is Back!
Beginning on Tuesday, October 12, the Student Body Government has planned a food drive to stock the shelves of the local Acord Food Pantry. Each year, the school hosts several fundraisers such as this, especially around the holidays; however, it is crucial during the recovery times of the COVID-19 pandemic that everyone has the opportunity to find the resources they need.
Currently, the food pantry is undergoing a shortage of highly required supplies. It is time for all students in the Hamilton-Wenham community to step up and help those in need. These needed items ranging from toiletries to canned goods.
Acord Food Pantry was founded in 1991 and is located on Willow Street in downtown Hamilton. The mission of the organization is "empowering individuals and families to feed themselves in a nutritionally balanced way with the help of more than 120 volunteers each month." The pantry supports residents of Hamilton, Wenham, Topsfield, Essex, Ipswich, and Manchester. Stacey Verge, the Executive Director, states that the food pantry "serves more than 300 clients per month and more than 5500 visits per year." 
Despite the COVID-19 shutdown, Acord had a 62% client increase and 3 times the number of families of 2019, during 2020.  
Acord is open Wednesday-Sunday and offers many opportunities for people to volunteer and give back to their community. Volunteers have options of purchasing food to stock the pantry shelves, delivering produce to local organizations, and helping distribute supplies. 
Hamilton-Wenham is always supporting the pantry and has various fundraisers throughout the year to gather supplies as donations for Acord. It is so powerful when young people come together and donate their time and money to supporting others. When someone in need is given the supplies that others have contributed, they are left with nothing but a smile on their face, just knowing that there are people always willing to support them. 
Each grade has a specific list of items they need to collect, as identified by Acord Food Pantry. The list is as follows:
Grade 9 (2025): Baking/snack items (Baking mix, packaged cookies/crackers, snack foods).
Grade 10 (2024): Personal Care Items (Soap, Toothpaste, Deodorant, Shampoo/Conditioner).
Grade 11 (2023): Household Items (Toilet paper, paper towels, Dish Soap, Laundry Detergent).
Grade 12 (2022): Specialty Items (Shelf-stable, Non-refrigerated: Almond/oat milk, Coffee, Tea, Ensure/boost, Cereal).
A reminder to students that by donating even one item, you are making someone's day and saving lives. As busy as we are, we must continue giving back to our community and help those in need. So HW, let's come together and help restock the shelves at Acord Food Pantry. Let's #GiveBack HW!
Leave a Comment
About the Writer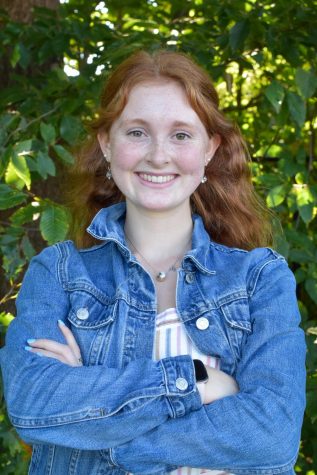 Ariel Greenberg, Co-Editor, Staff Writer
Ariel Greenberg is a Senior at HWRHS and is thrilled to be returning to the General Consensus as the co-editor in chief and staff writer. At the school,...