Hamilton Wenham Regional High School's Division 4 varsity volleyball team is looking to fight for victory with a high amount of energy and effort. 
Varsity Coach Marc Turiano, who is also a Middle School teacher at Saint John's Prep, wants everyone to know "How much work the team puts into the game so they can represent their peers and community at the highest level possible."
He is always looking for new opportunities to improve the team's performance on the court and off. Everyone is expected to show up to practice and games, ready to leave sweat and hard work on the court. This is also expected in classrooms and any other activities they take part in.
That hard work can be seen during every game. Though their last match-up with their rivals, the Ipswich Tigers, on September 19th, 2023, ended in a loss for the Generals, the Ipswich Tigers had to fight hard for every point they got.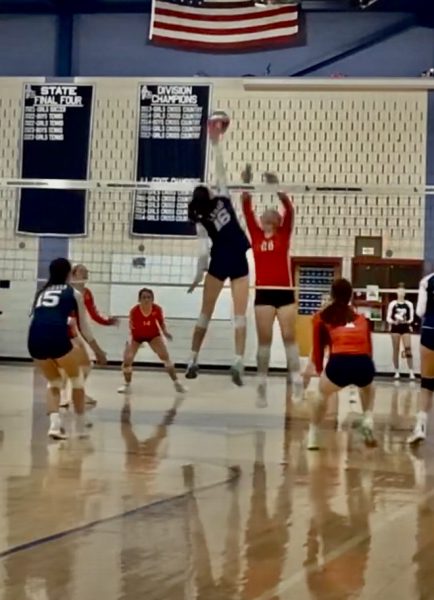 Senior Captain Gaby Campell, Middle front, is looking forward to the next game against Ipswich on October 23 on their home court.  She anticipates it will be a challenge given that Ipswich High School has won states two years in a row. 
Campbell remains hopeful, stating that "since the game is later in the season, there is time for improvements. I look forward to the competition and hopefully a better outcome than our previous match."
However, it's not just about the wins. Energy helps the team excel. Junior Bizzy Ireland, Right Front, says, "The volleyball team does carry out a consistent amount of energy, whether it's cheering each other on at practice or in games."
Whether winning or losing, the team seems always to have a positive attitude that, most of the time, leads them to win. Currently, they are 6-3 and hope to remain strong through the remainder of the season.