Six Hamilton-Wenham Students Recognized By the Prestigious Scholastic Art and Writing Awards
The Scholastic Art and Writing Awards is a prestigious, century-old, annual competition for middle and high school students. Notable alumni of the contest include It author, Stephen King, in 1965; Amanda Gorman, the youngest inaugural poet in U.S. history, in 2015-16; and acclaimed filmmaker Ken Burns in 1971. Past judges have included Langston Hughes, Robert Frost, and Judy Blume. Needless to say, to be presented with a Key Award or receive recognition from this program speaks highly of any young artist or writer. 
Hamilton-Wenham Regional High School and Miles River Middle School possess great talent in the English and arts programs. Amazingly, four HW high school students–Eugene Ahn, Max Clarke, Amanda Lannon, and Danie Leger-–were recognized by the Boston Globe Scholastic Art and Writing Committee. Two Miles River Middle School students, Juniper Mahnke and Cassi Sullivan, also received awards for their writing. 
Eugene Ahn
Eugene Ahn, a junior, was awarded a Gold Key for his painting "Rite of Spring." His painting will be considered in the national competition.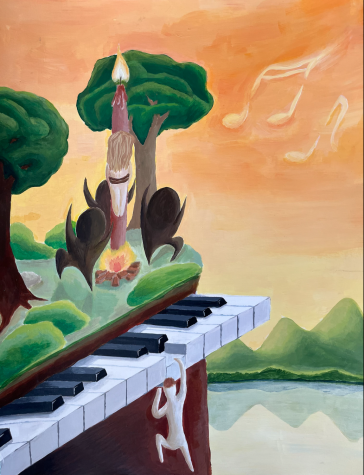 Eugene is both a talented artist and musician. As such, he was able to combine two of his aptitudes to create his award-winning painting. He based "Rite of Spring" on the 35-minute piece by the same name composed by Igor Stravinsky in 1913. It is originally a ballet score. Eugene explained a bit about the history of the piece and how it influenced his painting:
This piece was very controversial when it was first performed, due to its raw and primitive style, which was very unusual in classical music. I tried to encapsulate that raw and primitive style and ambiance in the painting, as well as illustrate one of the motives from the music – a sacrificed girl.
His inspiration stems from music, nature, food, other artwork, and traveling to unique places. He won an Underclassman Award for High Art Achievement his freshman year and a Live Music Performance Award for One Act at METG this year and last year.
Max Clarke
Max Clarke, a junior, received an Honorable Mention for his animation "Whiteboard Mayhem."
Max Clarke
He took Animation as an elective this year. The class allows students to develop their artistic and creative skills using different animation methods, from creating zoetropes to claymation. This project asked students to create an animation using a series of pictures, typically called stop-motion animation. He said, "I basically just saw the whiteboard and wanted to use it for my animation."
According to Max, he is an amateur when it comes to high-stakes animation, like the competition he faced in the Scholastic Art and Writing Awards. However, he used to create many videos like the one he submitted as a kid and is oftentimes inspired by the animation he finds online.
Amanda Lannon
Amanda Lannon, a senior, was awarded a Silver Key for her photograph "Icy Perspective."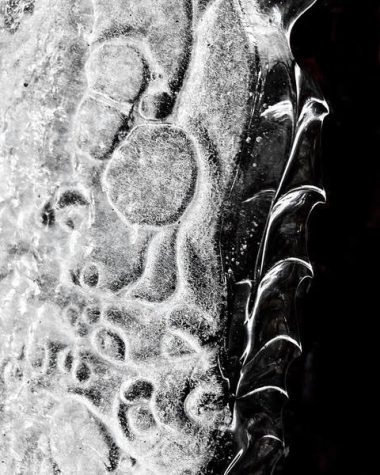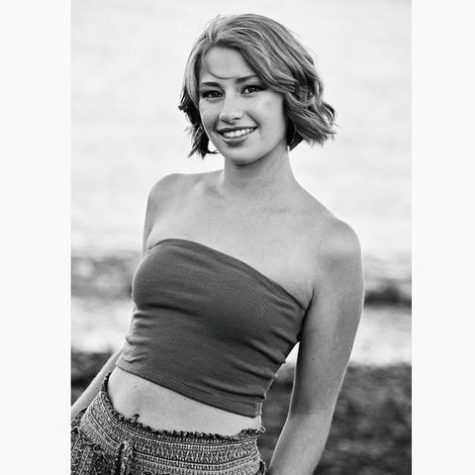 Amanda tends to find beauty in nature: "I saw abstract patterns in ice and I found it intriguing. These patterns created in the ice were delicate and a beautiful example of the art that is created by nature. My art is often inspired by nature and interpreting the beauty that I see in the world around me. I enjoy looking at small details and interesting angles that people often miss."
Lannon is no stranger to recognition for her photography. Last year, she received a Silver Key for her photograph "Art of Death" and an Honorable Mention for her photograph "Icy Diamonds." The year prior, she received a Silver Key for her photograph "Spring Rain" and an Honorable Mention for her photograph "In The Shadows."
Amanda's artistic talents extend beyond photography. At the moment, she is creating a series of white charcoal drawings on black paper. She says that she is "Focusing on the highlights rather than the shadows."
Danie Leger
Danie Leger, a senior, won a Gold Key for her poem "An Homage to Jamaica Kincaid." Her poem will be considered in the national competition.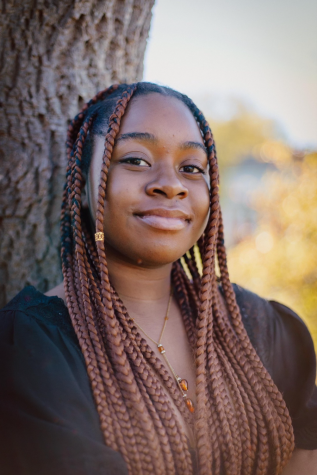 Danie's inspiration can be explained best in her own words:
I was inspired by a combination of things. It began with reading Jamaica Kincaid's poem called "Girl" in [Dr.] Pape's class, where she talked about the struggles of womanhood; it resonated with me when she mentions having to balance the expectations for women in her household with fulfilling her own desires. I was attracted to the unique formatting of her poem because it was unlike any poem I had seen; it looked more like a paragraph than a poem. What inspired my lines was simply the experiences of being a black girl and the expectations that are not only placed on me as a person but the combination of the two. The micro-aggressions that I suffered through in my sophomore and freshman years inspired my best lines such as "You will not be their prized black pony."  I am thankful for [Dr.] Pape's optional homage because it prompted me to delve deeper into my interest in poetry.
Leger says that her experiences drive her best writing and that getting them down on paper allows her to process her emotions. "I try to write it out what I am feeling whether I feel like the quality is good, bad or even pitiful. Doing this expels my emotions in a positive and productive way rather than letting my emotions fester."
Danie said that she was surprised by the overwhelmingly positive response to her poem. This beautiful homage will force the reader to consider and understand the meaning of Leger's words.
Juniper Mahnke
Juniper Mahnke, an eighth grader at Miles River Middle School, won a Silver Key Award for her poem, "Fixing What's Broken."
Impressively, she wrote "Fixing What's Broken" as a seventh grader while staying in a mountain cabin in Maine. For a final poem project in her English class, she was asked to triple the length of one of her poems. She says, "We all tried different ways of writing it, all I was unhappy about; I loved my poem the way it was. At the end of the project, after I had worked on the poem with my teacher, and felt it was the best it could be, I turned it in. After that, I kind of forgot about it."
The following year, her art teacher recommended that the multitalented middle schooler submit a drawing to the Scholastic competition, though she chose to submit a poem instead. 
When asked about how she felt about winning a Silver Key, she said, "I didn't hear who won until [homeroom] one morning, I was quite surprised I got a Silver Key. I was extremely excited, and I feel quite accomplished. I have never entered a poem or story in something like this before, so I was very stunned they liked it." 
On what inspired her writing, Mahnke said,
"
Over all, the poem was inspired by my view that the world is not perfect. It is broken, and needs to be fixed.
— Juniper Mahnke
"…My writing is inspired by different things, but my poems are mostly always inspired by beauty, whether it is something pretty or something bad."
Cassi Sullivan
Cassi Sullivan was awarded a Gold Key award for her critical essay "James Bird's The Brave, Donna Gephart's Lily and Dunkin, and Paige Rawl's Positive: Do the Authors Properly and Responsibly Represent Bullying?" It will be considered in the national competition. In addition, she received an honorable mention for her personal essay, "One Step at a Time."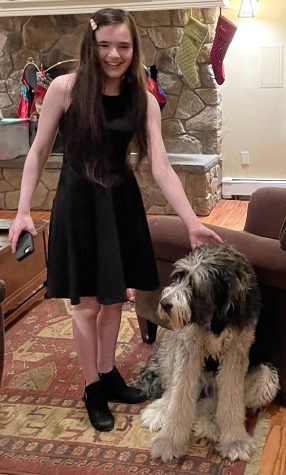 Cassi recalls having loved writing since she was very young. She stated simply, "Writing is how I express myself."
I asked Cassi what inspired her essays "James Bird's The Brave, Donna Gephart's Lily and Dunkin, and Paige Rawl's Positive: Do the Authors Properly and Responsibly Represent Bullying?" and "One Step at a Time." For her, they were both inspired by her lived experiences.
First, she told me about her critical essay: 
To be honest, I cannot stand seeing anybody experience bullying in any form, and schools tend to not handle bullying well. They like to put a bandaid on the topic by just telling kids, during an assembly, to be kind to one another.  I wanted to know if there were any young adult books that could comfort somebody who has either been bullied or is currently being bullied, so I looked at two novels and one memoir that revolved around bullying. Though all three authors successfully represented both the emotional and physical toll of bullying, they, unfortunately, all conveyed irresponsible messages that could ultimately damage the psyche of a freshly-bullied child.  I found this very frustrating.
Her second, personal essay told the story of an experience from when she was only six years old:
When I was six years old, I was forced to have brain surgery, after which I had to relearn how to walk.  This challenging experience not only taught me that I was far more resilient than I had ever realized, but it also showed me the power of familial love. 
The eighth grader has also won awards in the past for her writing. She earned a Gold Key from Scholastic for her critical essay entitled "Dan Gemeinhart's Scar Island: A Commentary On How Society Perceives And Treats Troubled Youth."  In addition, she received an Honorable Mention for three poems in the national publication Stone Soup at only eleven years old. The poems were entitled, "We Are Not Barbie," "Endless Cycles of Thought," and "Who Am I."  
Upcoming
Danie Leger, Cassi Sullivan, and Eugene Ahn are all being considered at the national level for their work. National results will be released on March 22, 2023. 
Submissions for Next Year
The Scholastic Award will begin collecting submissions for the 2023-24 competition in September. Submissions fall into either the Art or Writing category, each with numerous sub-categories. Eligible entries may also be considered for scholarships and other awards. Any student is eligible to apply here. View the work of previous winners here. If you would like advice or additional information, reach out to Mr. Hickey from the English department at [email protected].
Leave a Comment
About the Contributor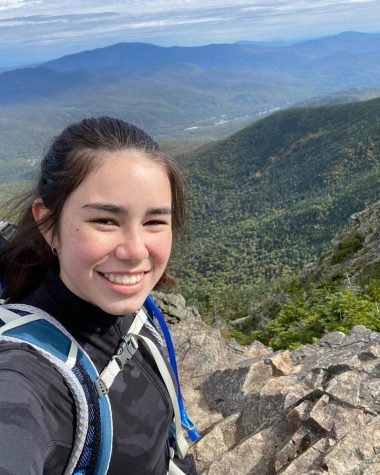 Ella Tran, Editor-in-Chief
Ella Tran is a senior at Hamilton-Wenham Regional High School. She loves swimming and is captain of the HWRHS swim team, She enjoys playing the violin...