Best Mask For School and Sports
With the return to hybrid learning and sports this fall, many found themselves trying to determine the safest, most comfortable mask for their schedule.  Several masks have been seen throughout the community each with their own positives and negatives. 
The CDC guidelines advise the public to choose a mask that snugly covers the bottom half of the face from the chin to the bridge of the nose. Masks should also have two or more layers and not leave space for gaps between the fabric and skin. The mask that seems to fit this description perfectly is the common surgical mask, and this mask also fits under the category of a 3 ply mask. These 3 ply masks are also considered the most lightweight by the FDA and popular among students, especially those who play sports.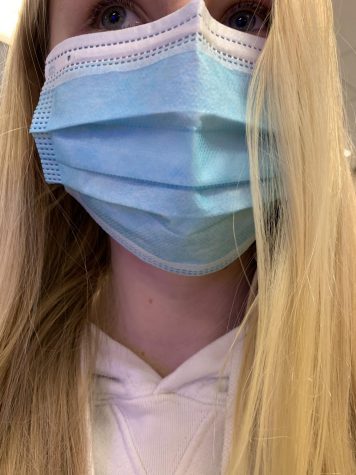 Craig Genualdo, the athletic director of HWRSD understands the appeal, saying,  " that the 3 ply type masks the school has on hand and is recommending, is the best one for in school".
Surgical masks are the most popular choice for the public because of their 3 layers of protection against bacteria and particles. There are many pros to choosing a 3 ply medical mask for shorter periods of time, however, surgical masks are often not as durable. Wearing one for a whole school day can cause damage to the mask, make it dirty, leading to it wearing out quickly.
Gwen McDonald, one of the high school nurses, says, " I recommend having one or two clean backup masks available". Bringing two disposable masks to school maybe be helpful, but can also wasteful.
Generally, surgical masks are not a practical choice for a 7 hour school day, but their lighter weight and protection make them more suitable for 1-2 hour sports practices when athletes need a breathable and lighter choice. 
Performance fabric masks are also a popular choice this fall for sports.  Athletes require a lot more breathing air on the field as they push their bodies to perform. This is why breathability is so important in an athletic mask.
Based on reviews, several masks were highlighted for athletes. Athleta in particular sells a "made to move" which is designed to be safe, sweat resistant, and breathable. The mask differs from the common surgical mask because it is a 2 ply mask. It's specially contoured design allows the mask to stay across the face and also has adjustable ear loops to make sure it doesn't move during athletic activity.
Despite these appealing qualities, there are mixed reviews because of the price and (sometimes) the tight fit. When asked about the preference of these 2 ply masks compared to medical 3 ply, one of the school's student-athletes Abby Hogan says, " I like to use disposable masks because they're very light so that when you're running it's not as hot".  Many Hamilton-Wenham students can be seen exercising in 3 ply disposable masks over other athletic masks for sports this fall, but it really comes down to personal choice.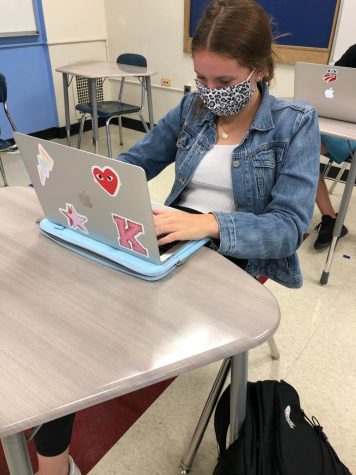 When in the classroom, another option besides the surgical mask, is the homemade/store-bought cotton mask. Many small businesses and companies today sell creative and trendy styles.
McDonald prefers these masks, saying, "I prefer cotton masks; many retailers and small shops carry masks now. Comfort and a good fit are key if you're wearing it for hours". Overall, she and many students have said that the best choice for school are the thick cotton fabric masks.
The school setting is also considered more high risk because students and teachers are in the same room for long periods of time. This emphasizes the need for a comfortable and sturdy mask. Some great options are the full coverage accordion and contour face masks from the GAP, they have dozens of different colors and patterns to choose from on their online store. 
If someone is looking for a light and breathable mask they should consider the 3 ply disposable mask. For sports, look toward something that is sweat resistant such as Athleta " Made to Move" masks, and for day-long use, many prefer the comfort of cotton. Either way, protect yourself and others, wear a mask. 
Leave a Comment
About the Contributors
Lina Sudachi
Lina Sudachi is a freshman at Hamilton-Wenham this year. She likes to write and wanted to try something new like journalism to spread her interests. She...