You're a Good Man, Charlie Brown Debuts This Thursday
This week, Miles River Middle School debuts its performance of You're a Good Man, Charlie Brown.
According to MRMS drama teacher and musical director Chrissy de Lima, "this musical is based upon the [Charlie Brown] comic strips, as opposed to the animated versions of the characters, and the vignette style of the play gives the feeling of reading a comic strip: there are short, sweet, clever storylines woven throughout the show that explore topics like self-doubt, courage, young love, depression, and friendship."
This year, MRMS has a double cast, meaning that most characters have two actors portraying them. Ms. de Lima noted the benefit of having a double cast; if one actor cannot attend, there is another actor playing the same part. Especially in the age of COVID, this helps ensure that the rehearsals and shows can run smoothly. However, according to de Lima, "the downside to double casting for me is that everything must be rehearsed twice. There is probably a better method of working with a double cast, so I hope to discover more efficient ways of running rehearsals for future shows."
This is MRMS's first musical since before the pandemic, meaning that this is the first middle school musical for every student involved. While this certainly presents its challenges, de Lima is using it as an opportunity to reevaluate how the musical operates. She added, "in a lot of ways, it feels like we're reinventing the wheel, and I'm not sure that's a bad thing. I'm trying to use this experience to ask myself: what have we been doing just because it's what's always been done? What could we do differently?"
"Our students have had a crash course in this process, and have handled it with grace, energy, and enthusiasm. This group is reintroducing the middle school to musical theatre, and I'm so proud of them paving the way for future students!" de Lima said.
Tickets to see Charlie Brown can be purchased online at this link – tickets cost $10 for HWRSD students and staff, and $12 for the general public. The show is at the Ferrini Dramatics Center at the high school.
Show dates and times:
Thursday, January 12 @ 7pm

Friday, January 13 @ 7pm

Saturday, January 14 @ 2pm and 7pm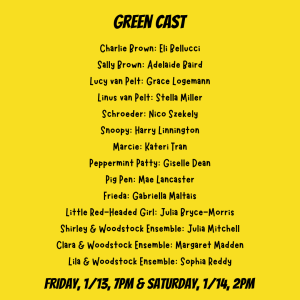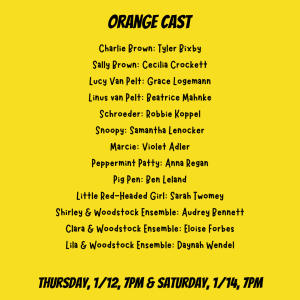 Leave a Comment