Arts in school, and why we should care
Long lasting benefits of theatre on students.
"All you need is faith, trust and a little bit of pixie dust" -Peter Pan
It's opening night of Peter Pan the Musical at Miles River Middle School. As family and friends settle in for a night at the theater, a booming voice comes over the loudspeaker and echoes through the theater: "Welcome to the Ferrini Auditorium." The lights go down and everyone knows the show is about to start—excitement is buzzing through the air. While the audience is leaning back and relaxing, the actors and cast members are anxiously waiting for the curtain to open. The lights flood the stage and the actors step out into the spotlight for the start of the show.
Eighth grader Chloe Gern, who has been participating in middle school productions for three years and plans to continue in high school, says that theater helps students to become more confident. "It allows you to be comfortable being yourself…It helps your confidence, your memory, and your ability to collaborate."
"
It allows you to be comfortable being yourself…It helps your confidence, your memory, and your ability to collaborate."
— Chloe Gern
Theater helps young students learn how to overcome their fears and become more comfortable in front of people and with themselves.
Will Glovsky, a senior this year who has participated in musicals throughout middle and high school, agrees that theater arts program has been a place where he has been able to find himself: "I think theater is one of the most transformative experiences I've had in high school just because it helped me refine every aspect of my personality."
Although these students vary in ages, both were shaped by theater and the community they built because of it.
Ms. DeLima, the personable, supportive drama teacher and director of the middle school musicals, said, "It takes a lot of dedication, resilience, and commitment." Being a part of a production teaches students commitment and resilience because they have to work long hours every day to create a performance and during this process they will have to push through many obstacles as a team. These students have to deal with rejection when they don't receive their dream role, which builds resilience and perseverance.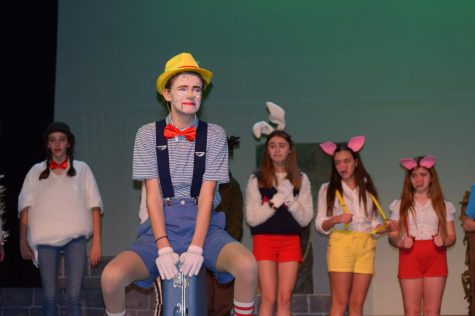 When all of their hard work results in something that they can be proud of it is very rewarding. A study done by Barry N.J Taylor for Artslearning.org on high school dropout rates found that students involved in theater are "three times more likely to win an award for school attendance." The same students who are committing themselves to theatrical productions are also committed to school and they have the resilience to go every day.
The same students that are involved in theatre also have been shown to get higher SAT scores than the average student who doesn't participate in the arts. These higher scores set students up for a successful educational and professional life.
Even if a student doesn't get his/her dream role they are still are taught many lessons and are provided with a supportive community. Not getting a main role is a lesson within itself for the actor. Ms Delima says
"
There's only one Peter Pan, there is only one James, there's only one Dorothy. Oftentimes students have to come to terms with not getting what they want and that can be a difficult process. "
— Ms. Delima
This lesson will also be applied later in life when some students won't get their dream job or dream college and some will get rejected—they have to learn how to roll with the punches and get back up.Theatre students know how to make the best of a situation and not give up.
Students who know how to act and work in such a close team often have an easier time transitioning to high school and, eventually, to a workplace environment. The impact of early theater lasts much longer than eighth grade. "All great leaders, speakers, and entertainers usually have one trait in common: they're great actors, as well" (DeVries). Henry DeVries, a journalist at the San Diego Union-Tribune states that skills learned through acting and theater will stick with people throughout their life and help them be successful professionally.
Being part of a theatrical production is more than just putting on  an amazing show ; it is also an experience where students will gain a close community. All actors and cast members spend months together going to rehearsal after rehearsal trying to embody their characters and memorize their lines. This takes hard work and dedication and effectively bonds them together.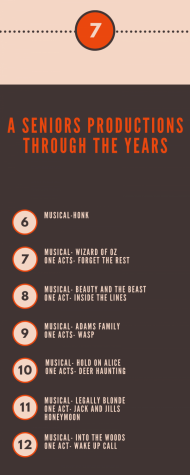 Brendan Callahan, a senior who has been doing musicals most of his life, says, "The. thing I value the most looking back on it is the relationships I gained with people." These bonds last throughout school and although the production ends these friendships last much longer. Being part of a production can provide a family of sorts for the actors and cast members to bond with and create lifetime friendships that help them become who they are.
In January 2019, Miles River Middle School showcased Peter Pan The Musical. It was well received and the actors' performances was greatly celebrated.
Actors are people we look up to in today's society. We look up to them for their charm and acting skills. The qualities that you can gain when you participate in the arts can be extremely useful.The skills you learn are utilized when you leave school further on in life.
It's useful to be a good public speaker or being able to collaborate well with others and not be afraid to branch out and speak your ideas. Also through theater, relationships and communities are built that create lasting bonds as all of you work together to make something to be proud of. These ideas are valued but are often not taught in the classroom, kids can learn these qualities and build these relationships from theater and the arts. Incoming middle schoolers should consider investing their time in the arts because not only is it rewarding, but you can pick up some valuable skills you will use later in life as well.
Leave a Comment