Where Does One Learn About Childhood Development or Cooking Nowadays?
Many students today might have once faced a dilemma like this: Their parents are out for dinner but forgot to leave money for pizza. Teens find themselves asking the question: What do I do?
In the 1970s, this was not a question; students felt confident in their cooking abilities because of a class offered at Hamilton Wenham Regional High School, known as Home Economics (Home Ec). Home Ec prepared students for life after living with their parents. At the time it was mainly for girls who would later become housewives. Today some high schools still provide this class to allow students to learn practical skills such as cooking, baking, and sewing that are necessary for living on your own.  
Hamilton-Wenham Regional High School had these types of classes, but it was last offered in the 2016-2017 school year. Courses that were offered included: Childhood Development, Chefs/Nutrition Academic, Advanced Chefs Class, Retail and Design 1, and Retail and Design 2. It was a part of the Wellness department. In the beginning, these Home Ec classes were very popular; with a high level of enrollment. 
Different classes would offer different experiences using a hands-on approach. For example, Childhood Development was the perfect class for students who wanted to go into early education. It allowed students to observe a real local daycare or elementary school one block per day. Many teachers remember their students enjoying the course. 
Alumni Anna Joans recalls that the child development class "was useful because we got placed in schools and actually worked with kids." 
Mr. James Laselva, a wellness teacher at HWRHS, remembers it well, saying, "Students had permission to drive right to the daycare in the morning.  It was really good for students interested in that field for the future. It was a powerful program."
Dr. Jennifer Sauriol, 6-12 Math Curriculum Coordinator said, "The students who took the class really got a lot out of it, it was quite a rich experience." These classes provided students with opportunities beyond a regular high school education.
All the students in the Childhood Development Class were often assigned a "Smart Baby," which was actually a smart computer chip program inside a doll. These dolls simulated almost everything that a baby can do. Theses "Smart Babies" would cry multiple times in a 24 hour period, disrupting class and sleep cycles. Students had to use various keys in order to get the baby to stop crying. Often the first key would not work and so students had to try a different key until they discovered if the baby needed the food key, the diaper key, etc. If a student was in school and had a test (which meant they would not be fully available to respond to the baby's needs), they would need to find a friend or a teacher to "babysit" for them during that test. 
Many teachers could relate, recalling their own experiences with their newborns. Sauriol said, "The whole point of this is to teach students that babies require time, energy and a lot of attention". 
Ms. Bababra Mahoney, an English teacher at the high school agreed, saying,  "It was good because it taught the students that having a baby is not just about cuddling them, is about responding to their needs whenever they cry–and they can cry in the middle of the night."  
When asking about the Chef/ Nutrition Academic Class, many teachers smiled and expressed that they enjoyed having those classes in school. 
Ms. Johanna Wilson, the 6-12 Technology Integration Specialist said, "I do miss how they used to learn how to bake cookies: the whole hall would smell like chocolate chip cookies, it was delicious, mouth-watering…if I had a student that was taking that class, sometimes I would get a special cookie, and I miss that." 
Cookies were just one of several baked goods produced throughout the year. Mahoney would sometimes buy little treats from the class' holiday gingerbread sale.  
The school used to offer a whole kitchen to students to learn the most authentic and basic chef skills. Students were taught more than just recipes, they learned the nutritional side and how food works in the body. They also were taught the importance of exercise paired with a good diet. 
The end of the year tasting competition during finals was also a big hit. Faculty were invited to "judge," students' final dishes. The faculty were given plates that they would fill with different foods from each student. Using a rubric, teachers rated texture, taste, and the visual appeal of each dish.  It also gave the staff a chance to praise students for their accomplishments and highlight a student's strengths in cooking. It was a fun event that always drew a crowd and brought faculty and students closer together.
Mr. William Melville, a fine arts teacher believes it taught important transferable skills such as collaboration through recipes. He also added, "My children have benefited from taking the class in their high school."
Ms. Kristen Losee, 6-12 Art Curriculum Coordinator said, "Not everyone necessary can learn cooking in their house." These students are at a disadvantage when it comes to basic life skills, and this class helped solve that problem.  
Yet, regardless of the cookies and the babies, enrolment started to decline. Mr. Laselva believes that the students' priorities seem to have shifted putting more focus on  "academically driven society with people busy resume building and college building." 
With colleges getting more and more competitive, Hamilton-Wenham High School increased its AP electives to prepare students to be more qualified for college. 
When it comes to college transcripts, Mrs. Maria Voss, a parent of a current junior at the high school, admitted she asked herself, "Would I rather my child take a cooking class or computer science? Honestly, I think I would prefer the computer science class." 
She is not alone in her thinking, demand for particular classes influence the school's course offerings. In 2015, the enrollment of this class started to fade dramatically. Eventually, it led to the entire cancellation of the class. 
Sauriol said, "Course offerings can vary each year, and often tough choices need to be made. It's nothing personal, there are only so many hours in a day, and so many classes in a week. In a small school, you have to make decisions and offer courses that have higher enrollment numbers."
Additionally, the class itself has some challenges. Alumni Lily Dixon said, "it could have been improved by providing written recipes for students.  It would have been great to have a final project like making cookbooks with your favorite recipes from the class, the cookbook could also include the prices of the profits and where you got them, that would've helped me for the future." 
The facilities were also a problem. There were no dishwashers and Laselva remembers that "students were apprehensive about the cleaning part."  Students had to rely on the previous class to clean up. Additionally, the ventilation system was old and not powerful enough to handle some of the cooking that took place.  While there were solutions to all these problems, they were costly.  
Although Hamilton-Wenham no longer offers Home Ec courses, Wilson said, "It's up to me as a parent now, to take up these responsibilities, and to teach them basic life skills like cooking and sewing, so it will be easier for them in the future." 
Since students don't have the opportunity to practice these skills at school anymore, it is up to students to take small steps to prepare themselves for independence; they can do their own laundry or cook a meal once a week, hopefully, this will help them in the future.
Leave a Comment
About the Writer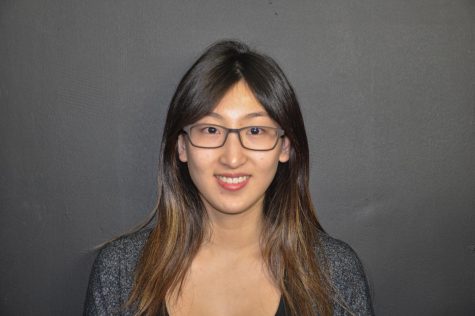 Audrey Wang, Staff Writer
Audrey Wang is a junior at Hamilton-Wenham Regional High School. She had never heard of journalism before so she decided to try it. She is born in China...